Following an intervention by the Communities Ministry, employees attached to the Community Infrastructure Improvement Project (CIIP) in Linden, Region 10 (Upper Demerara-Berbice) have received a variety of work tools, safety equipment and cleaning agents to better equip them to perform their duties.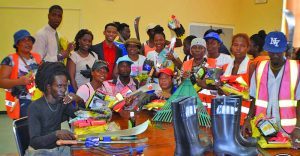 The workers, who operate at Wismar and Mackenzie, had voiced concerns over the lack of the necessities and had made an urgent request via the municipality of the Linden Mayor and Town Council.
According to the Mayor Carwyn Holland, following a meeting with the CIIP groups, a request was made to the Communities Ministry, which in turn responded promptly.
He acknowledged that the lack of adequate work gear has always been an issue for the employees, while he also revealed that there is still a shortage of some equipment including weeders, wheel barrows and slashing machines.
Under the new Council, the CIIP workers also benefited from the return of the $25,000 monthly payment, as opposed to $12,500 under the previous Interim Management Committee.