Travis Hazel, also known as "Fifty", of Lot 24 Silver City, Wismar, Linden, will be spending Christmas in jail after he was remanded on a murder charge when he appeared at the Linden Magistrate's Court.
Hazel appeared before Magistrate Annette Singh, who read the charge which stated that on September 15, 2018, he murdered 55-year-old Leroy Barron.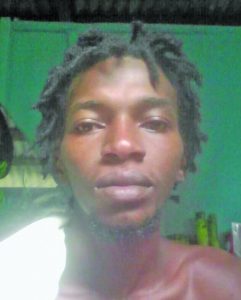 In court on Wednesday, Hazel was remanded to prison until January 10, 2019,
when the matter will be called again for statements and fixture.
It is alleged that on September 15, at Co-op Crescent, Mackenzie, Linden, Hazel inflicted injuries on Barron, which lead to his death. Barron of Lot 59 Old Kara Kara, Mackenzie, was allegedly beaten to death during an altercation with Hazel. Initial investigations had revealed that there was an argument between Barron, who was known to do odd jobs around the Mackenzie Market and the accused, during which the Hazel allegedly armed himself with a piece of wood dealt the man a severe beating before fleeing the scene.
The deceased was later taken to the Linden Hospital Complex in an unconscious
state but was pronounced dead on arrival.
A post-mortem examination which was later conducted on the body of the 55-year-old gave the cause of death as brain hemorrhage due to blunt force trauma to the head.