…chemotherapy to end by May 2019
President David Granger on Tuesday morning left Guyana, accompanied by his wife, Sandra Granger, for his second round of chemotherapy in Cuba.
Prior to his departure at the Cheddi Jagan International Airport (CJIA), the President said that the Centro de Investigaciones Médico Quirúrgicas (CIMEQ) has drafted a schedule of treatment, which will run until May 2019.
"In my first visit, I had not only the biopsy but a series of tests and examinations and I also had my first cycle of chemotherapy.
I now have to return for succeeding five cycles, so this is the second cycle and I hope to return much more quickly than I did the first visit ,because this is simply the administration of chemotherapy so presumably after the tests, which will be done today (Tuesday), I will have the chemotherapy and return by weekend," Granger said.
According to the Ministry of the Presidency, Granger will return to Cuba later this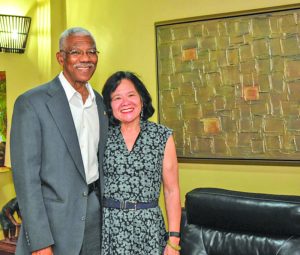 month for his third round of treatment.
"I expect that by the start of the new year, my progress, which has been gradual so far, will be sufficient to allow me to take on more duties," he said.
The Head of State added that he was very grateful for all the prayers and get-well messages he has received for his full and complete recovery, especially from Caribbean Heads of Government, business leaders, his colleagues, the churches and the public, particularly those who held vigils while he was in Cuba.
"I think my illness, although personally unfortunate, has brought forth a response by the Guyanese public, not to a politician, not to a political leader, but to a national President. I think they feel the presidency is what is being jeopardised by this threat to my health and I think what I have seen so far, both privately and publicly, are favourable national concern that the Head of State, whomever he may be, should enjoy the best health," he said.
On October 30, 2018, the President and the First Lady travelled to Cuba for him to undergo medical tests after he complained of feeling unwell. It was later revealed that the Head of State was diagnosed with Non-Hodgkin Lymphoma, which is a type of cancer that develops in the lymphatic system.
The lymphatic system is part of your immune system. Clear fluid, called lymph, flows through the lymphatic vessels and contains infection-fighting white blood cells, known as lymphocytes.
He was discharged from the hospital on November 6 after undergoing a series of tests and surgical procedures. He returned to Guyana on November 20 after he was given approval by his medical team to travel.
According to webmd.com, chemotherapy targets cells that grow and divide quickly, as cancer cells do. Unlike radiation or surgery, which target specific areas, chemo can work throughout the body. But it can also affect some fast-growing healthy cells, like those of the skin, hair, intestines, and bone marrow.
That's what causes some of the side effects from the treatment. According to the website, some of the most common side effects of chemotherapy are fatigue, hair loss, easy bruising and bleeding, infection, anaemia (low red blood cell counts), nausea and vomiting, appetite changes, and constipation.
Minister of State, Joseph Harmon, during his weekly post-Cabinet briefing on Friday last, disclosed that even though President Granger's workload has been reduced, he remained in charge of the State's business.
In May of this year, Granger and the First Lady had travelled to Trinidad and Tobago to undergo what was referred to as their annual medical check-up.
At the time, and in response to reports in the press, the Government had revealed that the couple did their examinations under a Caribbean medical insurance scheme at the Good Health Medical Centre. Those results, Government had said, indicated a clean bill of health.