Twenty-two-year-old former murder accused Nicholas Hercules was on Tuesday freed by Justice Sandhil Kissoon at the High Court after a no-case submission was upheld.
This was a turn of events since the defendant was set to have the trial evidence surmised by the Judge before the matter was put to the jury for deliberation.
Hercules, of Princes Street, Georgetown, was before the court charged for the murder of his relative, Carlos Solomon. The accused reportedly murdered him on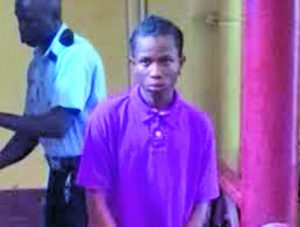 April 1, 2015, during a heated argument.
It was previously reported that the two men were arguing when matters escalated which prompted Hercules to whip out a knife, allegedly stabbing Solomon in the region of his heart. It was later revealed that Solomon had first stabbed Hercules to his knee.
It was reported that that Solomon was stabbed after he accused Hercules of setting up several males to beat him.
At Tuesday's hearing, Justice Kissoon directed that he (Hercules) be found not guilty after reviewing the case evidence. As such, the jury formally returned a not guilty verdict.
Lawyers for the defence and prosecution had sometime prior presented closing addresses and Tuesday's proceeding was for summing up and jury deliberation.
The accused was represented by Hewley Griffith and Compton Richardson while the State was represented by Lisa Cave and Orinthia Schmidt.