As the inclement weather pattern continues, residents of Linden, Region 10 (Upper Demerara-Berbice), have expressed concerns over the "deplorable" state of some main access roads in the community.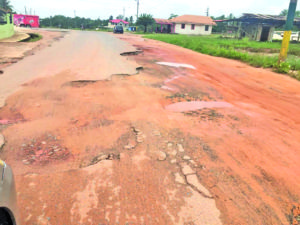 According to residents, the rainy season has had increasingly major effects on some roads which were already in a deplorable state.
As such, they are calling on the relevant authorities to look into the situation, especially in areas considered as main thoroughfares.
It is evident that some of the roads in the area are eroding at a rapid pace. Areas which are currently affected include Casaurina Drive at Mackenzie, Block 22, Wisroc, and the entry to Wisroc and Block 22 at Wismar amongst numerous others.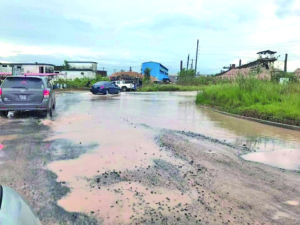 Residents have also registered dissatisfaction over the quality of some roads in the community over the years, and have noted that in areas such as Block 22, there has been no overall rehabilitation or improvement on the roadway.
The main thoroughfare at Casaurina Drive, which has been subjected to repeated repairs by the Public Infrastructure Ministry in the past is presently in a deplorable state and is flooded whenever it rains.
On Sunday, public-spirited citizens resorted to doing self-help work by patching the road in this area as they repeated calls for intervention. Residents are not sure how long the self-help repairs will last, especially with the constant downpours.