The aftermath of the inclement weather has left countless already deplorable roads across the Linden community in an even more deplorable state, with Regional Chairman Renis Morian blaming the lack of remedial work on the rain. As is evident, numerous roads have been destroyed due to erosion and exhausting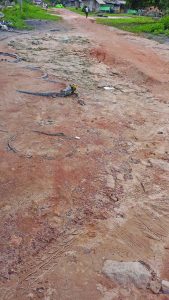 potholes have become even larger.
Residents have voiced concerns over the state of these roads, however Morian said Thursday that the weather is to be blamed for works not being carried out in a timely manner. The Regional Chairman has noted for several months now that this has been the issue.
While numerous roads in the community have benefited from upgrade works, some have remained in deplorable state. Notably, residents in areas such as Block 22, Wisroc, Half Mile, and Amelia's Ward have criticised the deplorable state of roads in their communities, noting that with the rainy season, the effects are even more damaging.
Passengers have also voiced concerns, emphasising that some minibus and taxi drivers refuse to take them directly to their homes due to the deplorable condition of several roads.
A driver indicated to this publication that they cannot stand the risk of causing damage to their vehicle and as a result would refuse to take passengers into locations where the roads are deplorable.
In areas such as Block 22 and Victory Valley, several roads are in terrible state due to erosion caused by heavy rains. With the recent budget, residents are hoping that roads in the community which have been neglected for years will receive much needed remedial works.