With the impending reactivation of the Kara Kara toll booth in Linden, the Linden Mayor and Town Council has hosted another round of consultations with community stakeholders.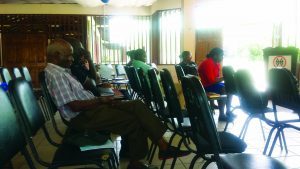 The consultations will continue today with members of the Logger's Association.
Speaking with stakeholders last week, Linden Mayor Carwyn Holland called for cooperation between different entities on the way forward. One of the pressing issues was whether vehicles belonging to Linden businesses would pay the toll. The Council had said that the vehicles  may have to pay an unspecified amount twice a year.
However, some stakeholders believe that they should not pay and so the decision remains in limbo. Linden Chamber of Commerce, Industry and Development Chairman Kevin DeJonge, speaking at the consultation, reminded that the toll booth has already been gazetted, despite concerns, but noted that it was time for business owners to voice their concerns.
He said the Chamber endorsed any form of income for the Linden community, while establishing that the Council should have consideration for loggers.
As such, he recommended that a similar meeting be conducted with members of the Logger's Association to discuss what they can afford to pay. This was supported by Mayor Holland in an effort to have a general consensus, since he noted that he was confronted by loggers at Wismar who had indicated that they were neither informed nor represented.
Banks DIH Limited Branch Manager Shondell Easton expressed her view, noting that she was concerned about the increase in the cost of living, since the toll booth coming on stream may lead to increased prices of goods and commodities and the final consumers might be the ones most affected. She was assured by representatives of the Council that measures would be put in place to cushion the effects.
Meanwhile, Councillor Wainwright Bethune said the municipality was seeking to make the Council economically viable, noting that he was appalled to know that there was "so much rejection" of the toll booth initiative since it was an idea which the community had supported in the past.
Entrepreneur Norvil Fredericks, in making his contribution, suggested that the Council replace the word "toll" with "revenue". He said in order to encourage persons to come on board, the right language should be used. He also recommended that the Council generate revenue instead through the issuing of licences for businesses. He also noted that the effects of the toll booth on tourism should be considered.
In wrapping up the discourse, Holland hailed it as a fruitful engagement, and promised to have a one-on-one meeting with major companies like Banks DIH. He also asked for full representation by the Logger's Association.
The Mayor further made the call for businesses in Linden to become registered with the Linden Chamber in order to receive strong representation.