Regional administrators and Local Government officials from the ten Administrative Regions of Guyana on Thursday gathered at the Arthur Chung Conference Centre (ACCC) at Liliendaal, Greater Georgetown for a discussion on community development and revitalisation.
The event, facilitated by the National Council of Local Democratic Organs (NCLDO), saw representatives from Local Government bodies being urged to get involved in decision-making processes and innovative thinking which can later be materialised to benefit their respective regions and, moreover, the citizens.
The areas examined included the leadership of councils, constituencies and administration, to create persons who can lead the councils and transform them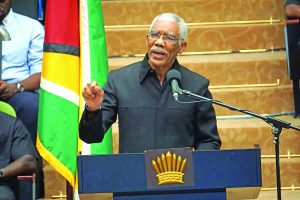 into a state of independence.
Speaking at the conference, which was held under the theme "Catalysing local government leadership for community and national development", was Communities Minister Ronald Bulkan, who highlighted that the functions of these councils and their governing officials will be put under the microscope to increase effectiveness.
"This inaugural platform is aimed principally at addressing the nuts and bolts of the Local Government System to facilitate greater effectiveness… the primary function of local democratic organs is to ensure the efficient management and development of their area, and to provide leadership by example," the minister stated.
He noted that these councils must come up with innovative projects to generate revenue, while establishing their organisation as independent structures.
"We must come up with creative ways, within the confines of the law and with the voice of the communities included, to generate needed revenue. The law provides for revenue sources to come from within local jurisdictions. Is it really autonomy if you ask somebody else to pay the bill?" the Minister remarked.
He later posited that this engagement will have a central aim: to 'remove impediments for effective leadership that neighbourhoods and towns need at this juncture'.
Meanwhile, the feature address was given by President David Granger, who explained that this conference will allow for democratic renewal whereby regions can embark on initiatives such as ecotourism and small-scale businesses.
"This meeting is a deliberate intervention intended to become a platform for promoting the work of NDCs (Neighbourhood Democratic Councils), municipalities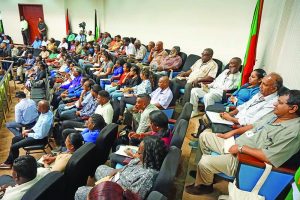 and the RDCs (Regional Democratic Councils), which can provide practical bases for them to work with Central Government, not against Central Government, in order to celebrate community development and, most of all, improve the quality of life for ordinary residents," the President related.
This is a move to eliminate the dependence aspect of these councils on Central Government, and to enable them with the opportunity to make decisions of their own.
It was related that the revitalisation and renewal of these village economies can only be successfully accomplished by the regional bodies, since they would have pertinent information on what works for the communities. As such, there are plans to make this an annual forum for these officials to meet and share potential ideas that will benefit their respective areas.