…neighbours suspect arson
Authorities are currently investigating the cause of an early morning fire which completely destroyed a West Bank Demerara (WBD) home, leaving the owner homeless and counting losses amounting to some $20 million.
The fire occurred just after midnight at the Lot 124 Coglan Dam, Pouderoyen, WBD house.
According to reports, the owner, 43-year-old Mahesh Parwat was at home alone and about 00:05h, he heard someone shouting "Fire! Fire!" Guyana Times was told that at the time, the man was taking a shower and after being alerted, he ran out of the building and saw sections of the house completely engulfed.
Neighbours immediately rushed to his assistance and tried to put out the blaze by forming a bucket brigade. However, they were unable to do so and by the time the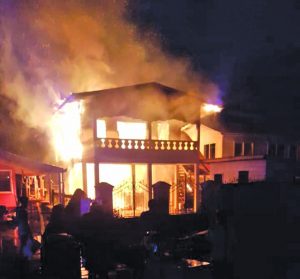 Fire Service arrived, the entire one-storey wooden and concrete building was engulfed.
The firefighters were able to douse the blaze hours later, but only the front veranda was left.
Parwat, who is a known alcoholic, has since been taken into custody for questioning. "He was drunk, so the Police picked he up and say that they will keep him 'till he sober up and then they gone question he," one man said.
Meanwhile, neighbours believe that the fire was an act of arson. One woman, Candy, told this newspaper that earlier Wednesday night, Parwat and his reputed wife, who lived in Canada but would stay at another house further up Coglan Dam when she returned to Guyana, had an argument.
"This is not the first time they fight and they curse – you can ask the whole neighbourhood – but this get real bad and this is not the first time too they talk about burning down house while arguing… Last night she said to him "tonight is the last you gonna be here" but [I] didn't take it as anything, because they always fighting every time she come back from Canada," Candy related.
The woman said that she and her family have been constantly living in fear of this happening, especially during the day when they are not at home.
"Me and my husband wholeheartedly work and build our home and we don't have anything else other than this or nowhere else to go. So, I'm always scared about what's going to happen," the woman posited.
However, Candy added that their worst fear came true on Thursday morning. She recounted that they were asleep when she was awakened by the sound of glass shattering. She noted that the fire started in the back room of the house, which is adjacent to her bedroom, so she immediately saw the flames reflecting through the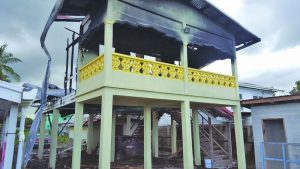 window.
"When I wake up, I see the brightness and feel the heat, so I wake my husband up and say fire. We start to throw water on the walls and we start to fetch out things from in the house. Then my husband start to scream for help and the neighbours them came out and help," the woman said.
While only the PVC gutter of the neighbour's house was damaged, they are also suffering severe water damage to the inside of their home from soaking the building to prevent the fire from spreading.
The now-destroyed home was said to be valued some $20 million, but was not insured.