– Canje look promising
Day two in the first round of the 2019 Milo Under-18 Schools' football tournament was a day of thrills at the Ministry of Education Ground, which ended with two wins and a draw.
The first game of the day was a Group E pairing of President's College and Marian Academy, in a game that went down to the wire. The youngsters of President's College got off to a great start, displaying great potential before Ridel Hernandez of Marian Academy put a damper on his opponents' spirits with a goal in the 20th minute.
The Marian side held their nerve to put up a solid defence for the remainder of the half, but a few minutes into the second, Keron Solomon fought back on President's College's behalf, netting a goal in the 55th minute. The remainder of the match went without another goal, resulting in a drawn game, which will see both teams sharing the points.
South Ruimveldt Secondary and Canje Secondary were the next teams to take to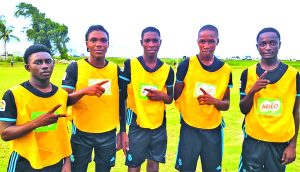 the playing field on Sunday for their Group A encounter. Canje Secondary, who are new to competition at this level, made an impressive showing against their Georgetown counterparts, with not only a strong defence but a very confident attack. The Berbice team were finally rewarded for their efforts in the 33rd minute when Omar Glenn found the back of the net. The remainder of the match-up went without a goal, resulting in a win for Canje.
In the final fixture of the day, Group E action returned with a contest between St Mary's Secondary and Lodge Secondary. It was as though the best game was saved for last, when Lodge Secondary unleashed a full onslaught on St Mary's.
Lodge, who were dominant in the last Under-18 tournament (Guyoil/ Tradewind Tankers Under-18 League) made a clear statement as to their intentions in the 2019 edition of Milo. The first of Lodge's goals came from a penalty opportunity, which was taken and connected by Shemroy Meyers in the 18th minute. With the score on 1-0, a strike by Marcus Bamfield further extended the lead in the 30th minute. Just two minutes later, Leroy Sealey joined the party with a goal of his own, for a 3-0 scoreline at the half.
Meyers opened the second half with another successful penalty, after which Nickolas Trotman perfectly placed a header for Lodge's fifth goal. Needless to say, St Mary's were left without a reply, missing the few chances they had at striking. Triston Louisey closed out Lodge's campaign with a sixth goal for the 6-0 win.
The Milo Under-18 tournament, which is being coordinated by the Petra Organisation, will continue this weekend with three matches each on Saturday and Sunday. The action will begin at 12:00h at the Ministry of Education Ground on both days.