Milo Schools Football Tournament
…other games drawn
The Milo Under-18 Schools Football tournament continued on Saturday afternoon with avid competition between the secondary school teams, as they fought to stay alive after the quickly expiring round robin stage.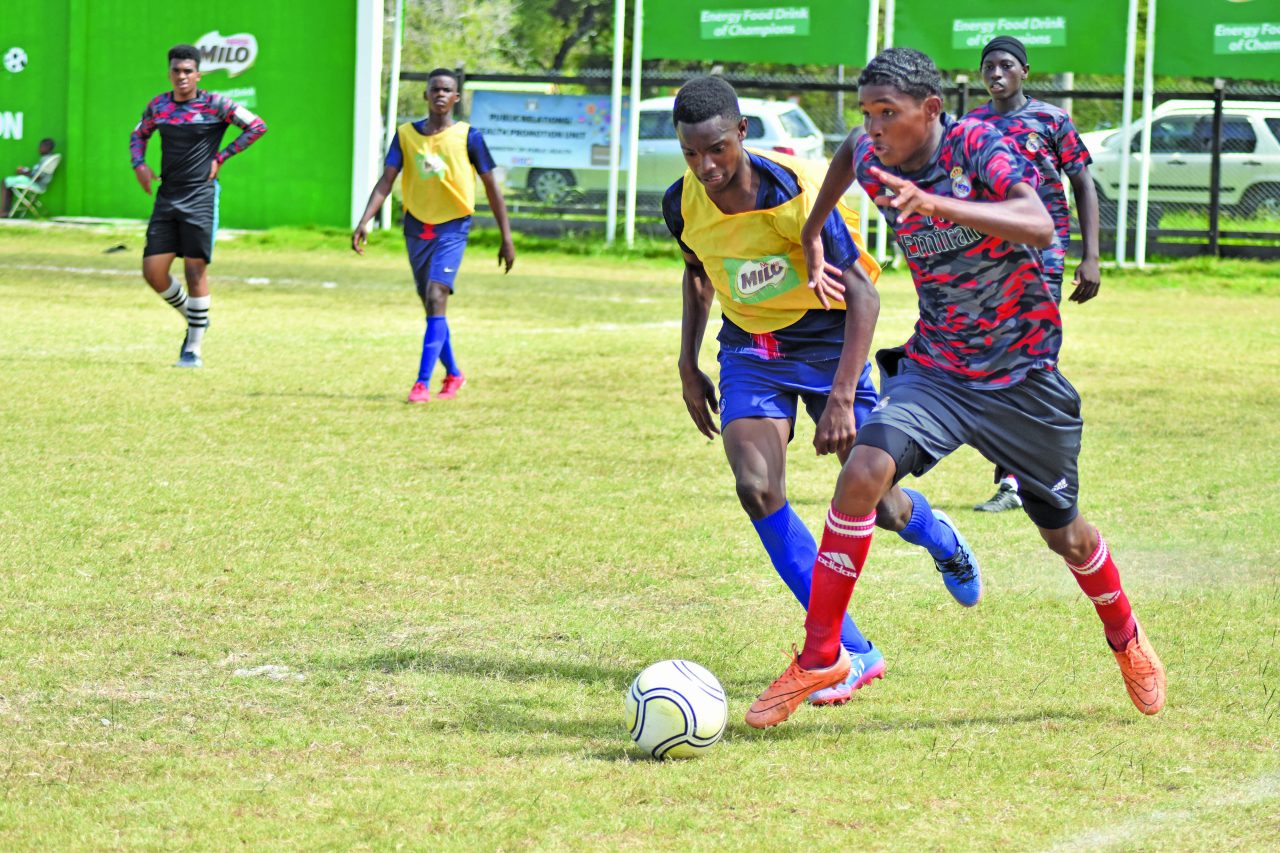 With three game scheduled for the day, the school aged spectators poured in to cheer on their team of choice, which added to the competitive atmosphere at the Ministry of Education ground on Carifesta Avenue.
The first two teams to take to the playing field were South Ruimveldt and Annandale Secondary. The Georgetown boys found themselves in good stead after it became apparent that the East Coast side was missing some of the key players. The new faces, although equally competitive, were not as fast as their counterparts, which left a hole in the Annandale defence. This allowed for Jamal Crim-Ewing to penetrate the goal in the 12th minute to take the lead.
Clearly having an off-day, Annandale missed key passes and clear shots at the goal for the remainder of the half. Their frustration was lifted in the 41st minute after Jerome Harrigon connected with the back of the net to level the scores. The newfound momentum led to Tiquan Taylor capitalising in the 52nd to score Annandale's second goal and take the lead.
South Ruimveldt found the formula once again in the 59th, with Joshua Milo netting their second goal to equalise. Despite both sides hunting for the third and winning goal, regulation time expired with the scores tied for a drawn game.
The result was almost similar in the second game, when St. Joseph's High and Canje Secondary battled it out. Near misses were seen quite frequently in this encounter, and things went down to a nil-all stalemate.
Lodge Secondary was the only school to register a clear win on Saturday, after their encounter with President's College. The East Coast team can be commended for putting up a strong defence and sticking to their clear game plan, which held Lodge at bay for the entire first half. The usually quick and high scoring Lodge outfit often found it difficult to get past the President's College defence; and even when they did, the attempt was scooped up by the more than capable goal keeper.
Dorwin George was the hero for Lodge, as he was finally able to penetrate the goal in the 44th minute. Five minutes later, George completed a repeat of his first, to put Lodge 2 up in a critical period of the game. Try as they may, President's College could not keep up, and eventually had to settle for the 2-0 win.
The action will continue today at the Ministry of Education Ground, where academic rivals Queen's College and the Bishops' High will take on each other. St. Stanislaus College will battle North Ruimveldt Secondary, while Marian Academy goes head to head with St. Mary's Secondary. (Jemima Holmes)