Diamond Mineral Water 11-race Cycling Programme
– Crawford makes top 3
Michael Anthony's power proved too much to handle on Saturday when he outsprinted Briton John for the win in the feature race of the 14th Diamond Mineral Water 11-race Cycling Programme, held at the National Park's inner circuit.
The 35-lap showdown saw Anthony and John break away from a competitive pack with just under 13 miles to go. Their lead kept increasing on the pack, which seemed to be comfortable keeping the fight among themselves.
Anthony stopped the clock at one hour, 20 minutes, 14.68 seconds (1:20:14.68s), which was slower than 2018 when Hamzah Eastman won in one hour, 16 minutes, 39.48 seconds (1:16:39.48s).
Finishing third was the in-form Romello Crawford, who has had an excellent start to the 2019 season. He won the fight in the trailing pack ahead of Junior Niles (4th), Christopher Griffith and Andre Greene, who rounded out the top rewarding spots.
Niles was the first to secure a prime prize, then Deeraj Garbaran claimed the next three, before Griffith and John had one each, while Anthony accounted for the final two. Sherwin Samson won the Juveniles 10-lap race along with the two prime prizes ahead of Shemaul Younge and Mark Lewis. Samson clocked 28 minutes, 29.48 seconds for victory.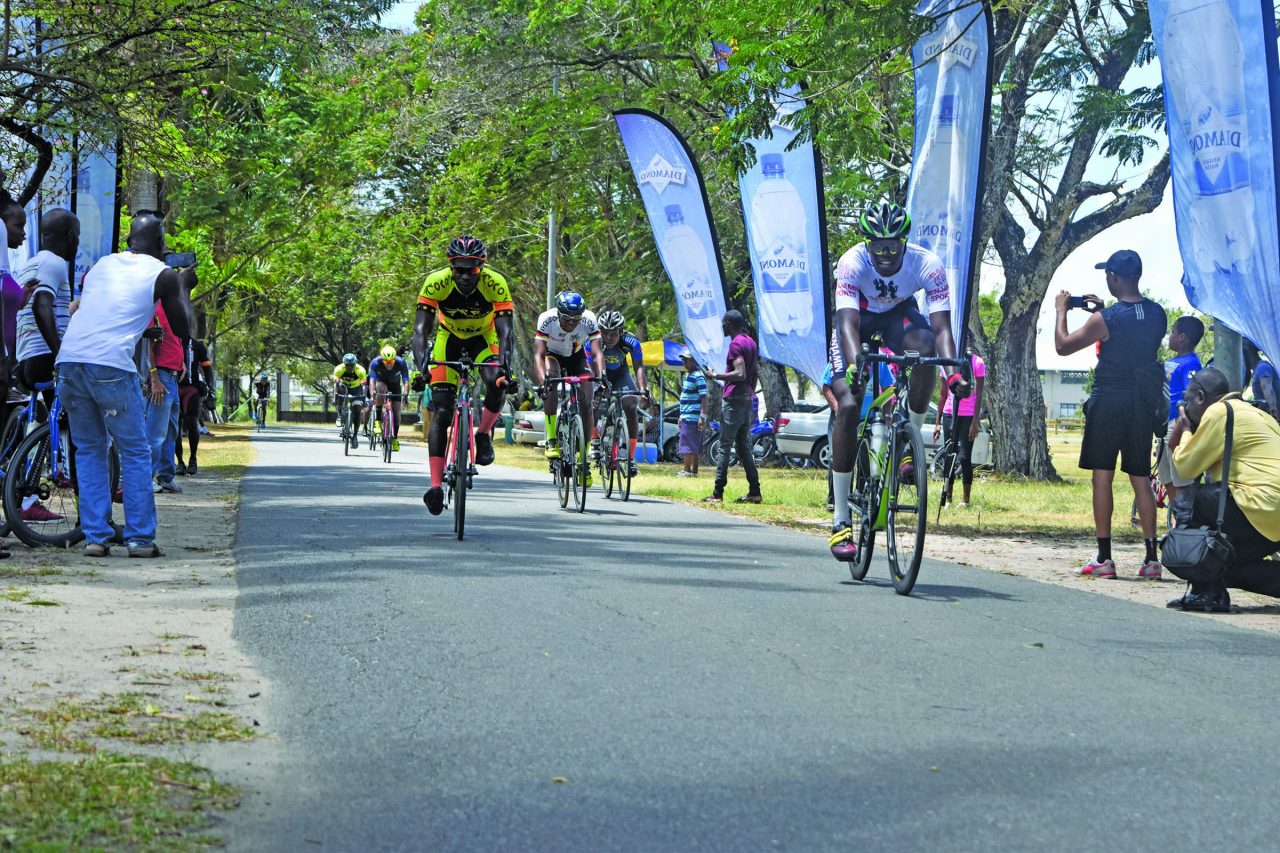 Niles won the veteran under-50 five-lap showdown and the only prize in a time of 11 minutes and 30 seconds, as Jaikarran Sookhai and Nigel London followed in that order. For the over-50 vets, Ian Jackson reigned supreme, while Kennard Lovell was second and Linden Blackman was third.
Lennox Jackman was the only rider in the boys 6 – 9-year two-lap race. The mountain bikers did not turn out on Saturday, but Uttam Kumar Issurdeen made the only appearance for the wheelchair race which was sponsored by Demerara Distillers Limited (DDL).
Today, the cyclists venture to Berbice for the second leg of the 22nd annual Cheddi B. Jagan Memorial Race, which begins in front of Freedom House in New Amsterdam, proceeds to Number 55 Village on the Corentyne, and returns to Port Mourant for the finish, for a total of 53 miles. (Kizan Brumell)