2018-2019 CWI Regional 4-Day Tournament…
By Brandon Corlette
Led by the courageous captain Leon Johnson, the Guyana Jaguars reigned supreme with their seventh win of the season, signing off with 154.2 points, and attaining a probable fifth consecutive Regional 4-Day championship under Johnson's captaincy.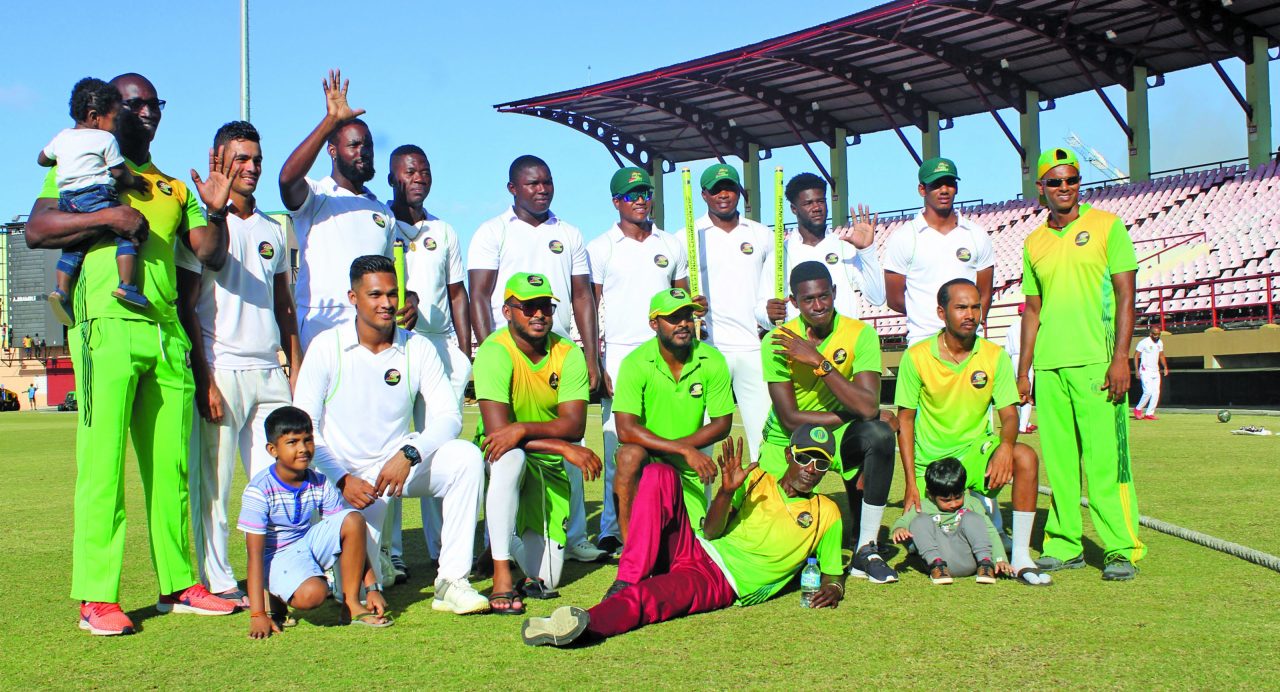 Sealed with Anthony Bramble's power and finesse — a maximum down the ground – Jaguars successfully chased down a target of 162 with six wickets to spare. Leon Johnson led the way with a classy 76 from 125 balls, and got support from Tagenarine Chanderpaul, who stood tall in his unbeaten 43 from 150 balls.
Jaguars leading run scorer of the season: Anthony Bramble with 580 runs, finished with 20 in the chase, completed within three days. 'Player of the match,' Romario Shepherd, finished the tournament with 37 wickets, steamrolling the Red Force opposition by taking eight of their wickets.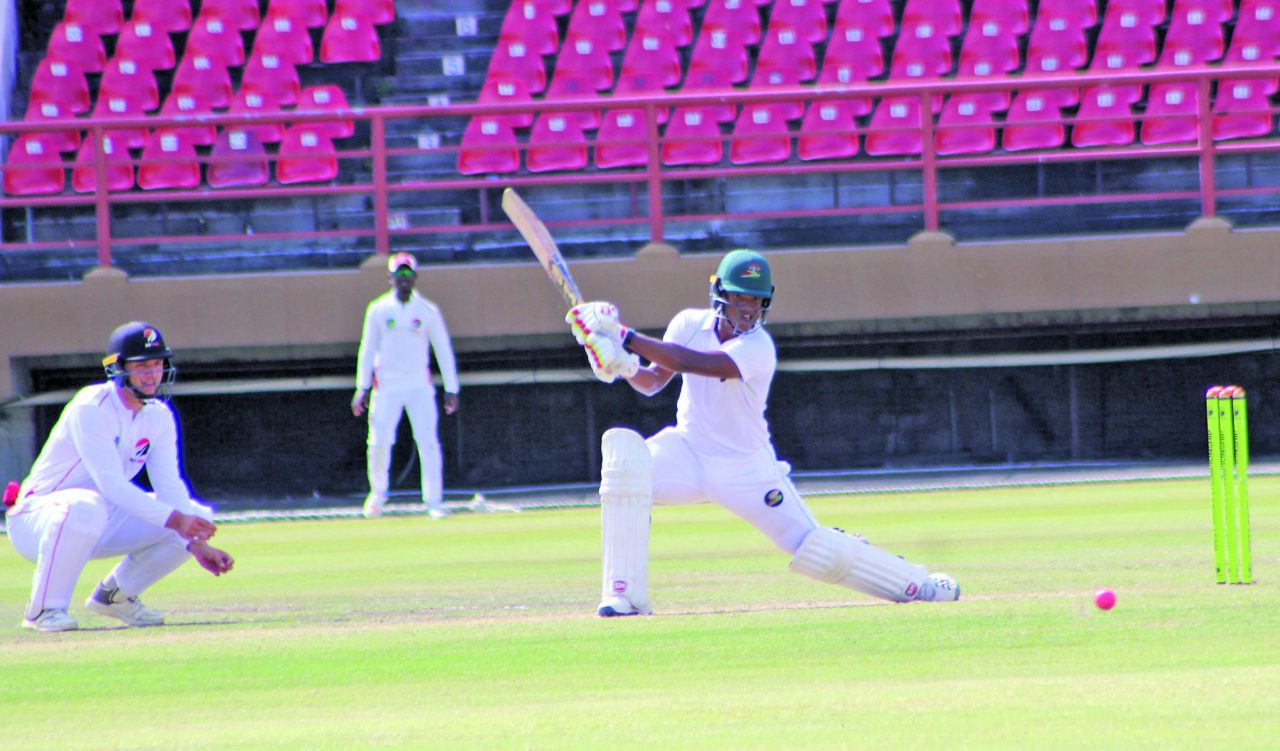 It was the penultimate day of the tenth and final round clash between Guyana Jaguars and Trinidad and Tobago Red Force, in the pink ball day/night encounter at the National Stadium at Providence. Jaguars were scenting victory heading into the third day on 69-2, requiring another 93 runs to win.
Tagenarine Chanderpaul and Leon Johnson resumed batting on this day, the former making his intentions clear by hitting a positive cut shot off Bryan Charles to score the first run of the day. Chanderpaul was solid in his stroke-play, while Johnson reached his fourth half-century of the season in a similar cut shot that went into the boundary off the bowling of off-spinner Charles.
The elegant Johnson reached the landmark in 76 balls in a wicket-less first hour. After adding 111 runs for the third wicket partnership, Johnson was out leg before, attempting to sweep Charles.
After establishing himself to score a possible century, he fell for 76 from 125 balls, including 14 classy fours in an innings that spanned 126 minutes. The Jaguars captain signed off his roller coaster season with 480 runs.
At 123-3, Jaguars required another 39 runs to win, and Chanderpaul was accompanied by Christopher Barnwell. After Barnwell hit two boundaries in his 22-ball 12, he became ambitious and was looking for a big shot. He was brilliantly caught by Anderson Phillip at long on off a tempting Imran Khan delivery.
Jaguars leading run scorers this season, Anthony Bramble and Tagenarine Chanderpaul, joined forces, and the 150-run barrier was broken when Chanderpaul swept Charles for a boundary. The duo ensured on further wickets were lost as they achieved the target in 53.4 overs, ending on 163-4. Bowling for the Red Force, Anderson Phillip, Daniel St Clair, Bryan Charles and Imran Khan had one wicket each in a losing effort on a surface that batsmen found difficult to play on at night.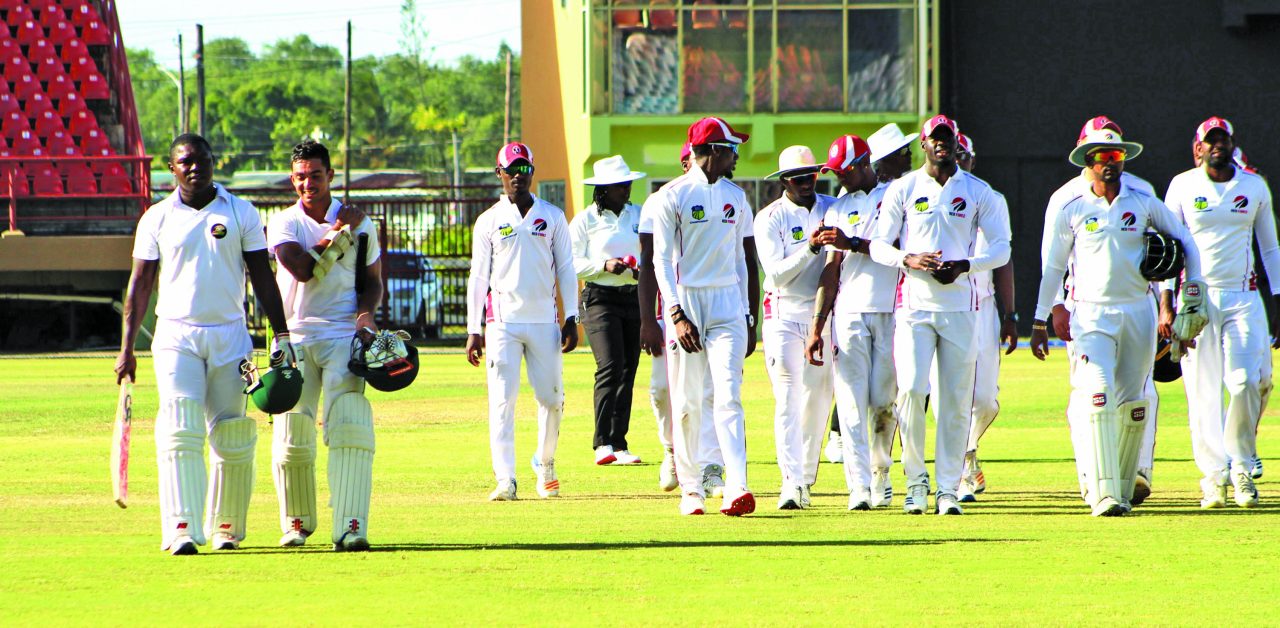 Leeward Islands Hurricanes and Barbados Pride will play in their final encounter on Thursday March 14, 2019. It is highly unlikely that the Hurricanes would attain all 24 points, which is the only way to change the outcome of the Jaguars fifth consecutive triumph.
Speaking at the conclusion of the match, Leon Johnson explained that this season has been one of the Jaguars' toughest campaigns. He reflected on the defeats, stating that those were the critical moments that Jaguars failed to grab with both hands. The most successful captain in the region, Johnson heaped praises on his fast bowlers, who grabbed 127 wickets. He pointed out the impact the impressive Romario Shepherd had with both bat and ball this season.