Chief Elections Officer (CEO) Keith Lowenfield, just last year, admitted that he is constitutionally bound to follow the instructions passed on by the seven-member Guyana Elections Commission (GECOM).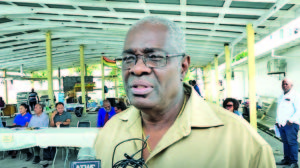 The CEO's position then is in stark contrast to his posture now wherein he defended his illegal actions to invalidate over 115,000 votes – which went against specific orders from the Justice (retired) Claudette Singh-led seven-member Commission.
In 2019, Lowenfield made it clear that "The Commission, by order, instructs the Chief Elections Officer…"
"They're contained in the Constitution, where the Commission shall direct the Secretariat to so do…So, it's not a creation on the attitude of the part of the CEO that he will have to be provided with guidance -the Constitution says in writing…," Lowenfield had explained during a press conference on February 8, 2019.
"So, they direct, 'move, don't move. Act, don't act' as is contained in the Constitution," Lowenfield had said.
He had further explained, "So, sometimes when one hears that the CEO cannot meet with a team at location 'X' or 'Y', I have not yet, as constitutionally mandated, been provided with the guidance from the Commission – [the] Chairman and Commissioners."
However, on June 23, 2020, Lowenfield disregarded a direct order from GECOM to prepare a final elections report based on the Recount results; instead, the CEO submitted a report with concocted figures showing a false victory for the APNU/AFC Coalition.
Then on June 26, 2020 – in the face of intense criticisms – Lowenfield defended his decision to disobey the Commission's order by claiming: "While the Commission makes certain policy decisions and provides guidance to the Chief Election Officer for implementation by the Secretariat, I have to execute my duties as a Constitutional Officer, particularly in the conduct of Elections."
This is not the first time Lowenfield has been exposed for acting contradictorily to statements he had made in the past on electoral matters in Guyana. For instance, in 2015, Lowenfield made it clear that it is impossible for voter impersonation to take place within the framework of Guyana's electoral system.
Lowenfield had explained that "The reality is, for you to vote at a polling station, you have to be listed to vote there. In that polling station, our Presiding Officer and the party agents will have a list that is specific to that polling station… But if you go into another polling station, then (your name) will not be there. So, you're not even having access to [that] polling station… because your name is not there.
"Even if you impersonate [someone]… and you've removed the ink, when you go [to another polling station] in another name but you don't have an ID card, then the folio has come into play, where our staff, GECOM's PO [Presiding Officer] and APO [Assistant Presiding Officer] have the folio for all of the persons listed at that specific polling station.
"So, you come and say, 'I'm Troy Johnson', and you don't have an ID card. You have to pass through the process of probably having the features of Troy. And our Presiding Officer will be asking you, since you don't have an ID card, as the Chairman (at the time, Dr Steve Surujbally) mentioned earlier, 'What's your name and your date of birth and your mother's middle name?' So, there're questions we have for you when you'll be coming to impersonate 'Troy'."
But now the CEO has invalidated over 115,000 votes, based on unsubstantiated allegations of voter impersonation levelled by the APNU/AFC.
In fact, in numerous cases, those allegations have been proven false, after citizens had come forward with proof to debunk the APNU/AFC's claims.