The People's Progressive Party/Civic (PPP/C) has lodged a complaint with the Ethnic Relations Commission (ERC) against APNU/AFC's Prime Ministerial Candidate, Khemraj Ramjattan, over racially incendiary remarks he recently made during a live television programme broadcast in Trinidad and Tobago.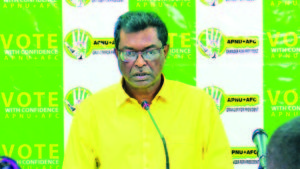 The complaint was filed on Thursday by PPP/C Executive, Anil Nandlall, who said that during the "Morning Edition" programme that was broadcast on CCN TV6 in the twin-island republic earlier that day, Ramjattan alleged that there was a political advertisement published in Guyana that states Afro-Guyanese "can't run oil money, you have to have East Indians doing that".
Nandlall complained to the ERC that these words were intended to and are capable of inciting "racial hostilities" amongst the people of Guyana, particularly between Indo and Afro Guyanese.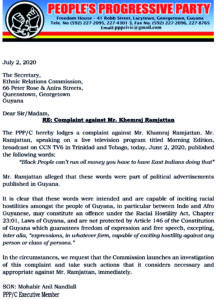 He noted that this may constitute an offence under the Racial Hostility Act, Chapter 23:01, Laws of Guyana, and are not protected by Article 146 of the Constitution of Guyana, which guarantees freedom of expression and free speech, excepting, inter alia, "expressions, in whatever form, capable of exciting hostility against any person or class of persons".
To this end, Nandlall requested the Commission to launch an investigation into this matter and take the necessary and appropriate actions against Ramjattan immediately.
This is not the first time the PPP/C has highlighted such incendiary statements by coalition members during this protracted electoral process.
Back in March, the party had signalled its intention to file a complaint with the ERC against caretaker Prime Minister Moses Nagamootoo over his use of provocative language which can be viewed as intending to "incite racial strife and animosity among our people".
Nagamootoo, in a statement to the media on March 10, had alleged that a plan had been hatched by the PPP through a front group with plans aimed at isolating and starving the people of Georgetown – the Capital City – which comprises the single largest section of Guyana's mainly Afro-Guyanese population.
However, PPP's Executive Secretary, Zulfikar Mustapha, had called for Nagamootoo's remark to be "roughly condemned".