United Nations Resident Coordinator to Guyana, Mikiko Tanaka has cautioned political leaders in Guyana "and their supporters to remain patient and refrain from acts and remarks that could incite hostility or violence."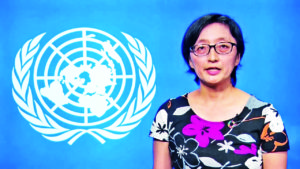 This, according to the UN's top diplomat in the country, is in light of the anticipated ruling of the Caribbean Court of Justice on June 8, with regards to enquiries in the Guyana Constitution in relation to its still to be declared General and Regional Elections held on March 2.
Tanaka's statement was made on Friday, a day after the CCJ met and heard arguments during a more than six hours hearing, into the case involving the People's Progressive Party/Civic's (PPP/C) General Secretary, Bharrat Jagdeo and Presidential Candidate, Dr Irfaan Ali versus known coalition supporter Eslyn David.
David had approached Guyana's Court of Appeal for an interpretation into the meaning of the words "more votes cast" in a constitutional provision catering for the qualification of a President.
The court had ruled 2-1 that it did have jurisdiction to enquire into the matter filed by David and that "more votes cast" were interpreted to mean "more valid votes."
This led to Chief Elections Officer, Keith Lowenfield submitting a report from the recount of ballots cast during the March 2 poll, to the Chairman of the Guyana Elections Commission (GECOM), Retired Justice Claudette Singh.
That report, purportedly in keeping with the Court of Appeal's ruling, had discarded more than 115,000 votes cast on the basis that they could not be ascertained by Lowenfield in light of allegations made by the coalition A Partnership for National Unity/Alliance For Change (APNU/AFC).
Those allegations included but were not limited to instances where "dead people" allegedly voted as well as persons that had migrated out of the jurisdiction or were not in the country on Elections Day.
Police Commissioner, Leslie James, in responding to a Commission request had provided GECOM with information supposedly confirming the allegations in relation to persons that had supposedly migrated.
Investigations by various sections of the media, including Guyana Times, had found that many of the allegations were, in fact, unfounded.
Jagdeo and PPP/C's Presidential Candidate, Dr Irfaan Ali, subsequently challenged the Court of Appeal decision into whether the court had jurisdiction in the first place.
A New and United Guyana's Presidential Candidate and founder, former Speaker of the National Assembly Ralph Ramkarran—who has since joined as an interested party in the case before the CCJ—has since requested a ruling to define valid votes to be used for the official declaration of the March 2 polls.
The CCJ has since imposed an order prohibiting GECOM from making a declaration, so as to not prejudice the outcome of the case.
The high-ranking UN diplomat in the country on Friday used the opportunity to "reiterate the United Nations' commitment to continue to support the people of Guyana."
CCJ-anticipated ruling
Meanwhile, former Attorney General and People's Progressive Party/Civic (PPP/C) Executive, Anil Nandlall appeared on the CNC3 Television's Roadmap to Recovery Programme in Trinidad on Thursday night where he raised the issue of sanctions and expulsion.
Nandlall told Ramkissoon and her viewers that the party is anticipating that the CCJ would rule in its favour and strike down the Appeal Court's ruling. He noted that by doing so the CCJ would be paving the way for the Guyana Elections Commission (GECOM) to direct Lowenfield, again, to prepare the statutory report using the results generated by the Caricom-observed recount process.
The recount results show that Nandlall's party won the elections by over 15,000 votes.
"Whether the CCJ rules in our favour or not, the fact is that the elections results are there. The elections were certified to be free and fair. The results of the recount mirrored the results of the elections night," Nandlall said.
Given Guyana's electoral violence history, the programme's host, Hema Ramkissoon, asked Nandlall whether his party is concerned about the possibility of such violence, however, he assured her that the APNU/AFC and the rigging cabal are trying to create a situation of unrest with very little success. He explained that the Guyanese people are well aware of the incumbent's lack of a credible story and as such, support for them is rapidly diminishing.