…Part 1
This Saturday and Sunday, the Lusignan Golf Club (LGC) will devote activities to honour both the lifetime achievements of some of its outstanding members as well as celebrate the birthdays of Maurice Solomon and Hemraj Kissoon.
LGC President Aleem Hussain said, "Giants aren't always big people…sometimes they're captains of industries, unassuming heroes, or simple persons who rise to the occasion when called.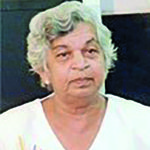 "Such are the stories of the following people — those who have dedicated their lives to betterment of themselves, their communities, and the lives of those that they come into contact with on a daily basis. We are fortunate to have persons like these at the Lusignan Golf Club and to follow in their footsteps, learning from their examples."
Doreen DeCaires
Doreen DeCaires celebrated 50 years as a member of the LGC and has certainly earned her spot as a life member. For many years, Doreen served as Women's Captain alongside her late husband, David DeCaires – the Club's longest serving Captain.
During the 'lean years', it was Doreen who merged the women's and men's teams to ensure that there were sufficient players to host a tournament. She remembers driving to pick up members in an effort to make sure they were on time and acknowledges that her game suffered as a result of her self-imposed drive in her organisational role as she sought to promote the game alongside her husband. To her credit, she represented herself and the country well, playing in Trinidad, Antigua, and Barbados, and she continues to win in the United Kingdom.
A success both on and off the golf course, Doreen was Guyana's honoree for the United States Secretary of State's Award for International Women of Courage. She received among many other accolades, the Guyana Manufacturing and Services Association (GMSA) Lifetime Achievement Award for her long and dedicated service, and for promoting the development of the Private Sector.
Doreen, warmly welcomed by her friends and fellow members now that she is back in Guyana, expressed her satisfaction with the current conditions of the club, especially the fact that there are now 'buggies' or golf-carts available for her use.
Joe Solomon
Joe Solomon, for many years now a member of the LGC, and of course a batting icon who has his name etched forever in cricket history, was born in 1930 in Port Mourant, Berbice.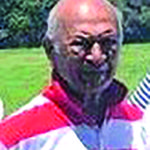 In the 1950s, he represented the Port Mourant Cricket Club, with West Indies players Rohan Kanhai, Basil Butcher, and Ivan Madray before making a sensational start to his First-Class career.
In October 1956, Solomon scored 114 not out on his First-Class debut, playing for Guyana against Jamaica, at Bourda. He followed this with 108 in his second First-Class innings against Barbados, also at Bourda, one week later. He scored yet another First-Class century, in his third First-Class innings for Guyana against Pakistan.
Joe's contribution to West Indian cricket was immortalised when he secured the first tie in the history of Test cricket by running out Ian Meckiff in the first Test against Australia at Brisbane in 1960.
These days Joe enjoys a new sporting activity – one to which he has brought over his cricketing proficiency – golfing, with his brother Maurice Solomon. Even at age 90, Joe still has the uncanny ability to keep his eye on the ball and drive it straight.