In order to transition inmates into the new state-of-the-art facility at the Lusignan Prison, the relocation of inmates from the Holding Bay has commenced.
Deputy Director of Prisons, Kevin Pilgrim, along with senior officers of the various prison locations, on Saturday visited the Lusignan Prison estate to get a first-hand understanding of the transitioning process, and view the progress of ongoing construction projects at the location.
"The relocation of prisoners from the Holding Bay to the new facilities had already commenced," a statement shared.
Pilgrim said the visit also gave the senior officers a clear understanding of the dynamics of the new facility, since the prison system has undergone a massive process of change over the last few years. He noted that upon the completion of many projects, the GPS will be closer to achieving its essential goal, which is to transition from a penal system to that of a correctional facility. Once fully operational, the new facilities would allow for some 1,000 prisoners to be accommodated in keeping with international requirements.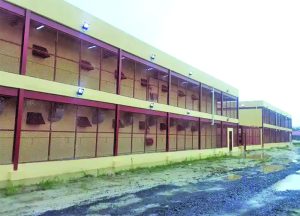 The $1.2 billion facility is fulfilment of a commitment of the PPP/C Administration following the destruction of sections of the Georgetown and old Lusignan prisons. It also forms part of the administration's manifesto promise to create safer prisons with improved conditions.
In 2017, some 1,000 prisoners were transported to the Lusignan facility following a mass fire that gutted the Camp Street Prions, and a holding area was constructed to temporarily house those inmates. This new, modernised building was created with a fire suppression system that would have access to adequate water, and adheres to the specifications for the housing of prisoners.
It was reported a few days ago that Phase One of the Mazaruni Prison Expansion has been completed, and will house 220 prisoners. Phase Two is ongoing, and would be completed by the end of the year. Another 150 inmates would be housed therein.
At Lusignan Prison, three buildings have been completed to house over 900 prisoners. Another three structures will be completed within a few months. A new facility will be constructed for female prisoners at Lusignan, and would house 80 inmates.
Meanwhile, motion sensor devices and a security fence were installed at Lusignan penitentiary. An infirmary annex at the facility has led to improved healthcare services for inmates.
Some $2.2 billion of the Guyana Prisons Services' $5.5 billion allocation in Budget 2023 has been used to advance prisons being constructed at Mazaruni and Lusignan, and to commence reconstruction work at the New Amsterdam Prison. (G12)