…learns from Guyana's malaria, dengue treatment
The Lesser Antilles Medical Assistance Team (LAMAT), which was sent on an exchange programme to Guyana, has been able to work with local professionals to conduct a number of surgeries and assist those who were waiting in the system.
The team has been able to work at two institutions – the Georgetown Public Hospital and the West Demerara Regional Hospital.
The medical assistance team includes 10 army personnel of ER doctors, surgeons, anthologists, clinical nurses, and surgical technicians, along with 19 Air Force members consisting of dentists, biomedical technicians, dental technicians, and force protection technicians, among others.
General Surgeon Dr Cheman Ramdharry shared that approximately 45 surgeries were completed by the team. With collaboration from local surgeons, almost 60 cases were completed in one week.
"We will be operating on simple and complex cases, mostly abdominal pathology… Hopefully, we're able to create some sort of impact on the patients who have been waiting for surgery for a period of time," Dr Ramdharry asserted.
"With the technology resources that they have, they're able to share that skillset and knowledge with us. We're grateful for that sort of benefit…We appreciate such collaboration that could bring development, progress through education and training," he added.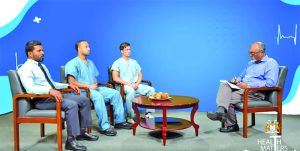 Through this collaborative effort with the Health Ministry, the team has been able to gain knowledge on how the country is treating cases of malaria and dengue – diseases which are seen commonly in the health facilities.
Emergency Physician Captain Jacob Braun appeared on the Health Matters programme and shared that it has been a different experience in Guyana. While cases of malaria and dengue are rarely seen in the United States, persons in Guyana would appear for emergency treatment – most times after suffering from the condition for a long period, he said.
"We've been seeing a fair amount of complicated malaria patients, dengue patients, leptospirosis, which are not common cases I see in the United States…Seeing the complications has been a very eye-opening experience for me. Seeing the expertise of the Guyanese emergency specialists and how they approach these problems is something I'll take to practice back home," Braun expressed.
The team was able to reach out to the Diamond Hospital, where important X-ray equipment was repaired, restoring their capacity to 100 percent. Children and adults who needed dental care were also assisted.
"Our region has had its fair amount of challenges. We see this as an opportunity to progress with our development. We're able to provide standardised care for patients needing surgical assistance. We're grateful for the opportunity of rapidly performing surgeries over a short period of time for a number of patients," Dr Ramdharry shared on the programme. (G12)