By Lakhram Bhagirat
The events of January 26, 2008, still haunt the residents of Lusignan, on the East Coast of Demerara (ECD), and now they are even more fearful following the escape of notarial criminal Mark Royden Williams, called "Smallie", from prison on Sunday. The residents are calling for increased protection to prevent Williams and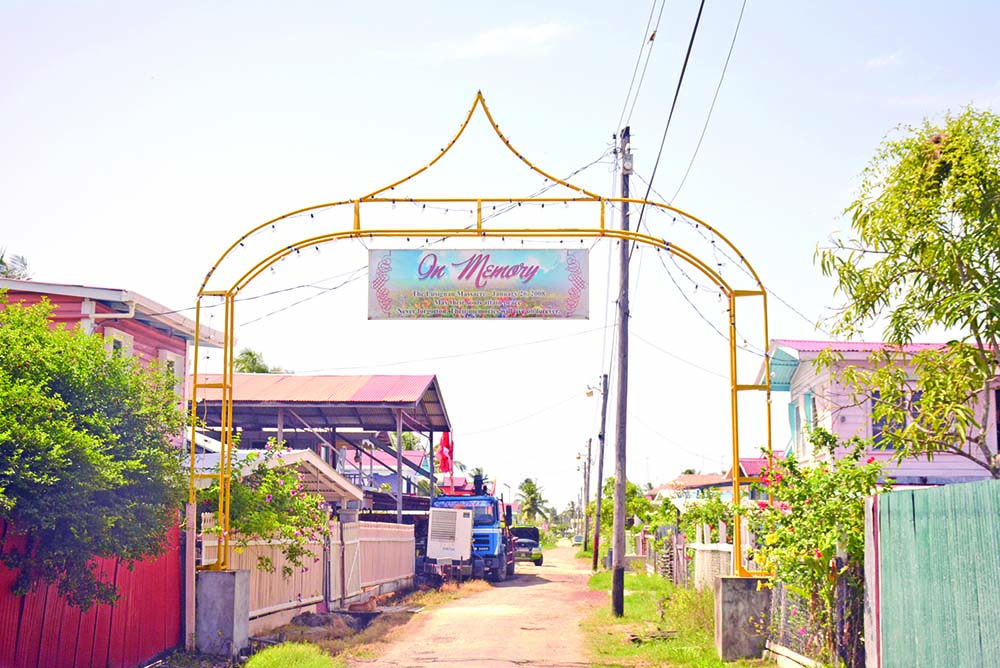 his cohorts from returning to 'finish the job.'
At around 02:00h on January 28, 2008, at Track 'A' Lusignan, now dead criminal, Rondel "Fine Man" Rawlins led a gang of approximately 20 men who invaded the homes of five families shooting them without reason. Forty-eight-year-old Clarence Thomas, his 12-year-old daughter Vanessa Thomas and his son Ron Thomas; 32-year-old Mohandai Gourdat and her two sons, four-year-old Seegobind Harrilall and 10-year-old Seegopaul Harrilall; 22-year-old Shazam Mohamed; 55-year-old Shaleem Baksh; Seecharran Rooplall, 56, his wife Dhanrajie Ramsingh, 52, and their 11-year-old daughter Raywattie Ramsingh, all lost their lives in the carnage.
It is believed that Williams, from Friendship-Buxton, ECD, was a part of the gang and was apprehended in June of 2008. He was charged along with James Anthony Hyles for the massacre and was later acquitted in 2013.
However, the Caribbean Court of Justice, in Trinidad, heard arguments on the appeals challenging the decision to retry Williams and Hyles for the murders. Attorneys Roger Yearwood and Nigel Hughes represented Williams and Hyles, respectively, while Senior Counsel Sir Fenton Ramsahoye, and Director of Public Prosecutions (DPP) Shalimar Ali-Hack represented the State.
Now in 2017, "Smallie" is on the run along with Stafrei Hopkinson Alexander, Uree Varswyck, Cornelius Thomas (a Trinidadian) along with four others. They are armed and considered dangerous.
Following the fire on Sunday, which flattened the Camp Street Prison in Georgetown, over 1000 inmates were transported and are being housed at the Lusignan Prison. The prison is located less than one mile from the village where the massacre occurred.
When this publication visited the community, residents expressed their fears over the convicted criminal being on the run.
The husband of victim Mohandai Gourdat and father of her two sons – four-year-old Seegobind Harrilall and 10-year-old Seegopaul Harrilall –related that he is fearful over the new developments.
"Right now we scared bad about what is going on here, we can't rest in we house. People are going to sleep at their families," he said.
The man related that he was working in Trinidad when the incident occurred and some nine years later, he is still battling to move on.
One family, which spoke on the condition of anonymity, related that they have been unable to sleep since Williams' name was released as an escapee.
The woman said that her two daughters are afraid for their lives, adding that the fear is affecting her daughter's mental wellbeing.
"When that (massacre) happen, me and my husband hear the very first bullet and when we go by the window. One of the boy (who died), Shazad Mohamed, he alarm went on. I prayed for my daughters to remain asleep because I didn't want them wake. We stand up and count them bullet this, we deh through the window and as soon as them man drive off if you hear noise and from that noise me husband walk out and join to see and them people take ambulance and so and carry them people to the hospital," she recalled.
The father of the house said that the fragile village cannot afford to have another such incident and that he is hopeful that the authorities have a long-term plan for the protection of the residents and that they are actively pursuing the escapees.
Upon traversing this area, this publication observed residents peeking out their windows but refusing to engage in conversation. During the 2008 attack, 48-year-old Clarence Thomas, his 12-year-old daughter Vanessa Thomas and his son Ron Thomas all received multiple gunshot wounds while his other son along with his wife Gowmattie Thomas survived. The woman hid behind a curtain and watched as her children and husband were riddled with bullets. Their house was the first to be attacked.
"I started to go to relatives (since the jailbreak), I can't sleep, I am afraid," the fearful woman related.