By Romario Samaroo
One of the most promising young talents in the country's boxing fraternity, Imran "Magic" Khan, is set to pit his fistic skills against the very skillful Keeve Allicock in the Guyana Boxing Board of Control (GBBC)/ World Boxing Council's (WBC) "Locked and Loaded" card, slated for staging at the Giftland Mall at Liliendaal, ECD on Sunday, April 9.
Khan, who had said he was ending his career at the end of his match against Quincy Gomes in 2016, has turned that loss around and is using it to channel his energies into putting his career back on line. To date, he has three professional fights under his belt, the same number as Allicock, and either boxer has already secured a win against the other.
Speaking at the contract-signing ceremony last Friday, Khan noted that his loss was due to some known facts about his style; but he said he has since been working on correcting deficiencies and is confident he can come out with a win.
Magic said, "Walking the road a quitter is not easy." He said lots of people have been telling him, "Quitting isn't you!" and this is what has motivated him to make a return to the squared circle.
Assessing his opponent, Khan is of the view that Allicock has never beaten him, not even in sparring sessions; but he says he would use the fight with his opponent and good friend as a stepping stone to get his career back on track.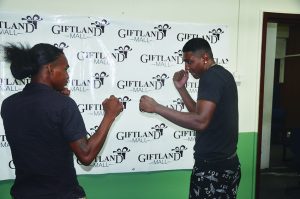 Allicock sarcastically laughed off Khan's predictions and made a prediction of his own – that he would knock Khan out. He said he has asked the organisers to provide a stretcher and ambulance in waiting for his good friend.
Both lightweight boxers come from the same community of Albouystown, and are said to be in prime condition. They each have played down the lengthy layoff period, and have given the clear impression that each is locked and loaded to leave it all in the ring.
Looking at the fights carded for the night of action, three amateur bouts are set to be staged, with the first match, being in the 120-pound category, pitting Rewinne David vs Akeela Malazon in a four-round punchfest.
In the second match-up (140lbs), Kelon Isaacs will go toe to toe with Euel Augustin, before Stephan Gouveia faces Jackford Joseph in the 145lb class. Both fights will be for three rounds.
Edmond DeClou will go punch for punch against Winston Pompey as the two renew their rivalry in a six-round super middleweight event. The first time these two fighters met the match ended in a draw, while the second match-up saw DeClou marginally winning.  Pompey has since been dominating the French Guiana circuit, while DeClou has suffered a broken jaw.
Dexter Marques will feature in the main event as he makes his comeback to the ring over 10 rounds against Luis Alberto Requena Zarraga out of Venezuela. Marques is touted to be, if not the best, one of the best flyweight boxers in the Caribbean and is road mapped to make it to a WBC world title fight.
Marks has won 15 fights, compared to eight for Zarraga, and both men have contested in 17 fights. However, Marques's loss has been blamed on his fighting out of his natural weight class.
The fight will see patrons able to purchase tickets at a cost of $1000 general admission and $2000 ringside.