…Opposition Leader labels move as an unconscionable assault
A large group of small miners in Mahdia, Region Eight (Potaro-Siparuni) on Wednesday protested the seizure of their mining equipment by operatives of Guyana Geology and Mines Commission (GGMC) as they expressed calls for amnesty. The miners gathered in the town of Mahdia as they stood united, saying "bread" is being taken out of their mouths as they called for total amnesty after their equipment were seized. The miners accused the David Granger led-administration of snatching their livelihood from them.
The protest comes days after the GGMC raided Mahdia and surrounding communities seizing equipment for alleged breached of mining protocols. The miners are contending that the long waiting period for permits and the alleged corruption by GGMC officers have left them non-compliant with regulations.
"We are asking for total amnesty… whatever the consequences are after this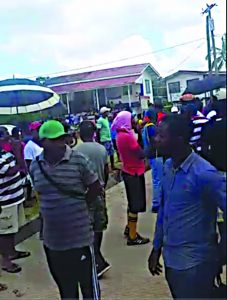 breach then we will accept it," one protesting miner said.
They said too that the penalties meted out to them were too harsh. The aggrieved miners told members of the media that the process of obtaining a mining permit takes some six weeks to two months to be granted and they noted that they cannot leave their operations to transact business in Georgetown for such prolonged periods of time.
"We have to be waiting long periods before we could get and renew the applications so all of them things does cause these people to breach orders and when they do, they does be treating us like criminal, running us with guns!" one miner decried.
"We are just asking that they come with good orders so that we can follow… the rules could have been fit in in a systematic way so that the people could comply and continue earning," said a dredge owner who had his motor engine seized.
Others spoke out against alleged corrupt compliance officers in the area who they say would often accept bribes from errant miners.
"They did not say anything to us, they usually take bribes and allow people to work so now when the people feel free to work, they coming down on them harshly," one miner expressed.
Some small miners even berated the granting of lands to foreign nationals, saying that Guyanese are being "left with nothing".
"The big men them are getting lands to work and the small miners are being suffocated, nothing for them, we own Guyanese people!" the media was told.
Unconscionable assault
The miners observed that they want President David Granger to intervene even as Opposition Leader Bharat Jagdeo termed GGMC's actions an "unconscionable assault". He too called on the Head of State to immediately reverse the decision which is affecting working class citizens in Mahdia and elsewhere.
"This sort of callous and uncaring decision will only serve to further hurt our small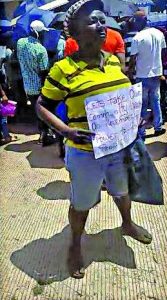 miners, who have families to maintain and children to send to school…. we have a Government that has done nothing to improve the fortunes of small miners or the working class, for that matter. The Ministers sit in their offices and gorge themselves on privileges using taxpayers' monies, while every single day they come up with new ways to launch an assault on our working class and productive sectors," the Opposition Leader said.
As such, he called for attention to be given to small miners given the importance of the mining sector to Guyana's economy. The Opposition Leader has also been for the last few years calling on the coalition Government to reduce the tax burden on the business sector, including the mining industry. Calls to GGMC Chairman Stanley Ming for comment on the matter on Wednesday afternoon were unanswered.