A 47-year-old mother of four was discovered dead and her ex-lover has been taken into custody in Region Eight (Potaro-Siparuni).
Dead is Denise Vieira, a businesswoman of Pepper Hill, Mahdia.
Based on Police reports, Vieira lived in a flat concrete structure and operated a small grocery shop in the building, while the suspect, a 33-year-old male pork-knocker, who is her reputed husband, resides in the same yard in a wooden structure in a partly-fenced section.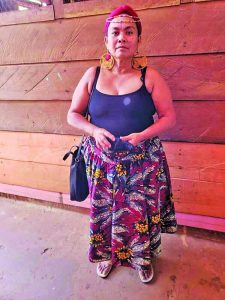 Reports are that the suspect and Vieira had lived together for about eight years, but due to an ongoing months-long domestic dispute, Vieira decided to move out and build a house in the yard about three months ago.
The woman's neighbour told Police about 13:15h on Wednesday, she was at home when she overheard Vieira saying loudly, "Get out my (expletive) place, leff me alone."
Police said that about 13:30h, the 33-year-old man reportedly left his house and proceeded next door and was hanging out with some friends, when a customer went to the woman's shop to make a purchase, but got no response.
The customer then went to the woman's reputed husband and sought the whereabouts of the woman. Police said that the man then left and went over to the house and was seen making checks around the yard and in the woman's shop.
He then proceeded into his house and told the customer that he found the woman on the kitchen floor of his house motionless, and from her hand she appeared to be dead.
At the time, what appeared to be blood was oozing from the woman's mouth, nose, and about her face.
The suspect told Police that he attempted to revive her by shaking her, but she was unresponsive.
A report was then made to the Police by neighbours.
The woman's daughter Felica Evans on Wednesday evening told <<<Guyana Times>>> that she was of the belief that the man might have murdered her mother, and she was awaiting the results from the post-mortem examination.
She said the man would both physically and verbally abuse her mother which caused her to move out of the house. She said she was not aware of her mother having any health issues, and if she did, she would have informed her.
"She was not feeling unwell…and if she was feeling sick, she would have told me. We are close and she would tell me anything. I honestly believe that he murdered her….," Evans said.
The body of the woman was examined for marks of violence, which were recorded by the Police.
It was then taken to the Mahdia District Hospital, where Vieira's death was officially pronounced, to await a post-mortem.
The suspect was contacted, told of the allegation, and cautioned. However, he has denied committing the crime. He was arrested and placed into custody, as investigations continue. (G9)