A capacity-building workshop by the International Secretariat of the Extractive Industries Transparency Initiative (EITI) commenced on Friday and will see various stakeholders benefiting from in-depth training to prepare them for the upcoming oil and gas sector.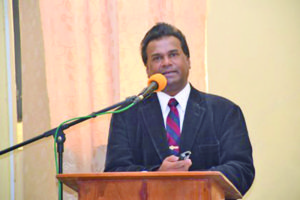 This workshop focused heavily on mainstreaming and beneficial ownership, which are deemed two key areas which all stakeholders need to be prepared for in relation to the country's oil industry.
According to GYEITI National Coordinator, Dr Rudy Jadoopat, a lot has been done but there is still more to do in this regard.
"Guyana has been moving forward in implementing the EITI…We are asking the co-operation and support of representatives of the extractive sector, civil society and Government agencies especially. As you know, the EITI is founded on the principle that a multi-stakeholder approach will be taken in its decision making."
Meanwhile, Natural Resources Minister, Raphael Trotman in his opening remarks at the capacity-building workshop on Friday told participants that Guyana has been EITI compliant since 2017 and its first report was submitted in April this year, ahead of the deadline that was set.
He stated that Guyana has seen improvements in many areas but that the most successful feat was having the 2019 report completed, submitted, and building upon this report. The second report for Guyana is in the making, Minister Trotman said.
"Further, the multi-stakeholder group has drafted an action plan to implement the recommendations outlined in the first report and we are in the process of hiring an administrator to prepare the country's second EITI report. Today's (Friday's) workshop is, therefore, another step in our journey to compliance and transparency since it focuses on two key, in fact, I would say critical areas, those being beneficial ownership and mainstreaming."
He added that beneficial ownership and mainstreaming are important tenets of the EITI process, both of which are imperative towards ensuring that the country continues to accrue the benefits that are available while achieving the highest standards of integrity.