Police ranks in 'D' Division (West Demerara) on Friday morning arrested a man who was found in possession of some electronic appliances that were suspected to be stolen.
According to reports, under the command of Divisional Commander, Senior Superintendent Edmond Cooper, ranks conducted a stop and search operation at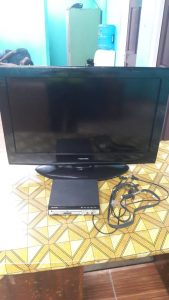 the western end of the Demerara Harbour Bridge at about 03:45h.
During the operation, they observed the suspect with a 32" Toshiba flat screen television and a Digital Video Recorder (DVR) player. At the time, he was a passenger inside a taxi which was about to cross the bridge.
The suspect, a resident of Old Road, Stanleytown, West Bank Demerara (WBD), told the officers that the articles belonged to an individual in his community but on verifying, the person denied ownership.
As such, the items were confiscated and the suspected detained. Investigations are ongoing.