Police in A Division (Georgetown-East Bank Demerara) arrested a 37-year-old man on Thursday evening after several parcels of marijuana were found in the vehicle he was driving.
The discovery was made during an intelligence-led operation, coordinated by a senior officer and conducted by ranks of a Police patrol commanded by a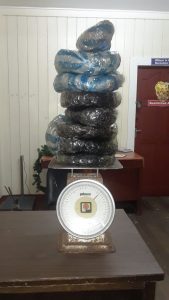 Sergeant.
According to Police reports, at about 20:20h, the ranks intercepted a Toyota Allion motorcar on the Grove Public Road, East Bank Demerara (EBD). They carried out a search of the vehicle, during which 10 sealed parcels of cannabis was found in the trunk.
The prohibited substance weighed and amounted to 12 pounds.
The driver, who hails from Westminster, La Parfaite Harmonie, West Bank Demerara, was taken into custody and is being processed for court.