Thirty-two-year-old Mohan Dharbali, also called "Rakish", of Cumberland, East Canje, Berbice, was jailed for nine years by Justice Brassington Reynolds on Monday last after he pleaded guilty to an attempted murder charge.
The Police stated that the accused dealt one blow to Fazal Hussain with a piece of wood to the head on February 7, 2017.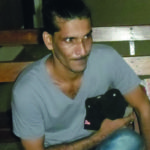 According to Hussain, he was at a wake house when Dharbali came and asked him what he was doing there. He then proceeded to punch and lash him to the head with a piece of wood. Hussain lost consciousness and was taken to the New Amsterdam Hospital. Currently, he cannot hear from his left ear.
In a probation report, Probation and Welfare Officer attached to the Social Protection Ministry, Leesa-Ann Tucker said Dharbali was raised by a stepfather after his biological father died.
At the age of 14 years, he worked as a porter with an uncle at Calabash Creek in the Canje River.
In 2012, he was jailed for breaking and enter. As a child, he was often left unsupervised.
The accused said he was sorry, but claimed that Hussain attacked him and he acted in self-defence.  Hussein said he wanted justice.
Dharbali said, "I am sorry about what happened and it will never happen back."
Before passing sentence, Justice Reynolds said the offence carries a maximum penalty of life imprisonment. He then referred to a United Nations report on life expectancy for Guyanese males which is 63 years.  Hence, he premised Dharbali had 31 years remaining, and deducted 15 and a further five for the guilty plea. Another year was removed for the mitigating probation report.
However, Justice Reynolds noted that Dharbali was not a first-time offender. He also said he noted the desires of the victim who said he wanted justice.