A man has landed himself in hot water after he was nabbed with an unlicensed firearm and matching rounds of ammunition on Sunday morning.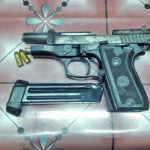 According to information received, Police ranks were on patrol duty between North Road and Robb Street, Bourda, Georgetown, when they observed the suspect acting in a 'suspicious manner' in close vicinity of a fast-food restaurant in the area.
The man was approached and questioned by the police after which a search was conducted on his body, and a blue 'side bag' he was carrying at the time.
The .32 Taurus pistol and a magazine containing two .32 rounds of ammunition were found in the bag that was around his shoulder.
The suspect, who hails from Victoria Village, East Coast Demerara (ECD), was questioned as to whether he was a licensed firearm holder.
According to the police, the man replied in the negative and as such, he was immediately arrested and taken to the Alberttown Police Station, Georgetown.
The .32 Taurus pistol firearm and the ammunition were marked and lodged in the suspect's presence.
He is currently in Police custody as investigations into the matter continue.
Just two weeks ago, another ECD resident was detained by the police in relation to the discovery of an unlicensed gun and matching ammunition.
The 25-year-old construction worker of Goedverwagting, ECD, was allegedly in the process of disposing of a firearm at a residence in Prince William Street, Plaisance, when Police ranks turned up at that location.
A search was carried out on the man, which unearthed a Glock 19 pistol with seven live rounds of ammunition. In addition, the police also found six grams of cannabis in the suspect's possession.
He had been immediately arrested and the illegal items that he had in his possession were lodged at a police station.