With their mesmerising performances at the Talent Fiesta auditions, the Berbician participants will be a force to reckon with at the Golden Jubilee Youth Village slated for January 24-25 at D'Urban Park, Georgetown.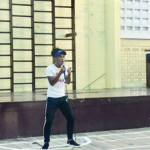 The tryouts were conducted at the New Amsterdam Multilateral School on Saturday. The event sought to provide diverse local people in the region with an opportunity for a platform to showcase their talents in order to be selected to perform at the mega event.
Youth Village Coordinator and Senior Research, Planning and Development Officer attached to the Department of Youth, Aditi DeJesus told the Department of Public Information (DPI), the auditions were very entertaining and a success.
The judges saw 15 performances in the categories of musical renditions, dance, spoken word, and dramatic pieces by individuals and groups. The acts will ultimately be judged based on originality, creativity, presentation, skills, costume, patriotic message and entertainment value among other criteria.
"We are looking for pieces that will encourage and inspire young persons who have talent to come out and to be confident, to showcase their talents. We are also looking for pieces that will entertain and energise the audience. Music or dance that will inspire the theme for the 50th Jubilee, in terms of reflect, celebrate, transform together so anything that can promote positive vibes as it relates to celebrating our achievements as a country, reflecting on the past and see where we have come from and what we can do to transform the country," DeJesus explained.
Lawrence Cliff,19, of Angoy's Avenue, New Amsterdam, performed an original song titled "Obey". He told DPI his music promoted positivity among youths. Cliff is hoping to be able to perform at the Youth Fest as he believes his message of obedience to parents and elders will resonate well with youths across the country.
The B3 dance group also had the audience and judges enthralled with their compilation of various dance styles that incorporated various genres of music.
Ronetta Cort brilliantly serenaded those present. Her rich voice echoed through the auditorium as she sung Cynthia Erivo's "Stand Up".
Tony Carter also brought the vibes and had the audience tapping their feet to his energetic Soca performance. Jose Angel's Hip-Hop performance was dubbed "outstanding" as he showcased his impressive moves. The ANBAL Dance Group and the Mission Chapel Life-Changing Ministry dancers also delivered in their well-coordinated costumes. Their impeccable choreography which was displayed in unison captivated the audience.
The performances on Saturday in the Ancient County concluded the third round of auditions that commenced January 10 at the Umana Yana and continued on January 17 at Lichas Hall in Linden. Those selected will perform at the Youth Village Talent Fest in Georgetown.a