Jermaine Bailey, a taxi driver of Joseph Pollydore Street, Wortmanville, Georgetown, was on Monday charged with the offence of Attempt to Commit Murder on Bimal Versammy Contrary to Section 103 (c) of the Criminal Law (Offences) Act Chapter 8:01.
The accused appeared at the Cove and John Magistrate Court via Skype before Her Worship Liverpool, where the charge was read to him and he was not required to plead. As such, he was remanded to prison until August 29, 2022.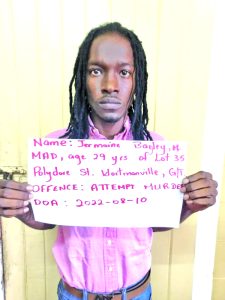 It was reported that two Tuesdays ago, 29-year-old Bimal Veersammy and 27-year-old Ryan Joseph were injured after they were allegedly shot by Bailey and another man who opened fire shortly after exiting a vehicle.
Joseph and Veersammy along with a third person were reportedly 'liming' in front of a residence when the two men who were armed with a small handgun exited a motor car, approached the men, and opened fire.
According to the Police, the gunmen were in a silver Bluebird motor car, which had a HD series number plate.
Joseph received five gunshot injuries to his right hand, one to his left leg, to his left hand, and one to his abdomen. Veersammy, on the other hand, received gunshot injuries to his right hand, elbow, and left leg above the knee, while the third male escaped unharmed.
After the shooting, the two masked shooters, one of whom was identified as Bailey, re-entered the waiting motor car after which it fled the scene.
The two victims were rushed to the Georgetown Public Hospital where they were admitted as patients. They were subsequently discharged.