Archery Indoor Recurve Finals…
The National Gymnasium came alive again on Sunday , December 2, 2018 when Archery Guyana's Indoor Recurve Championship Finals were run off.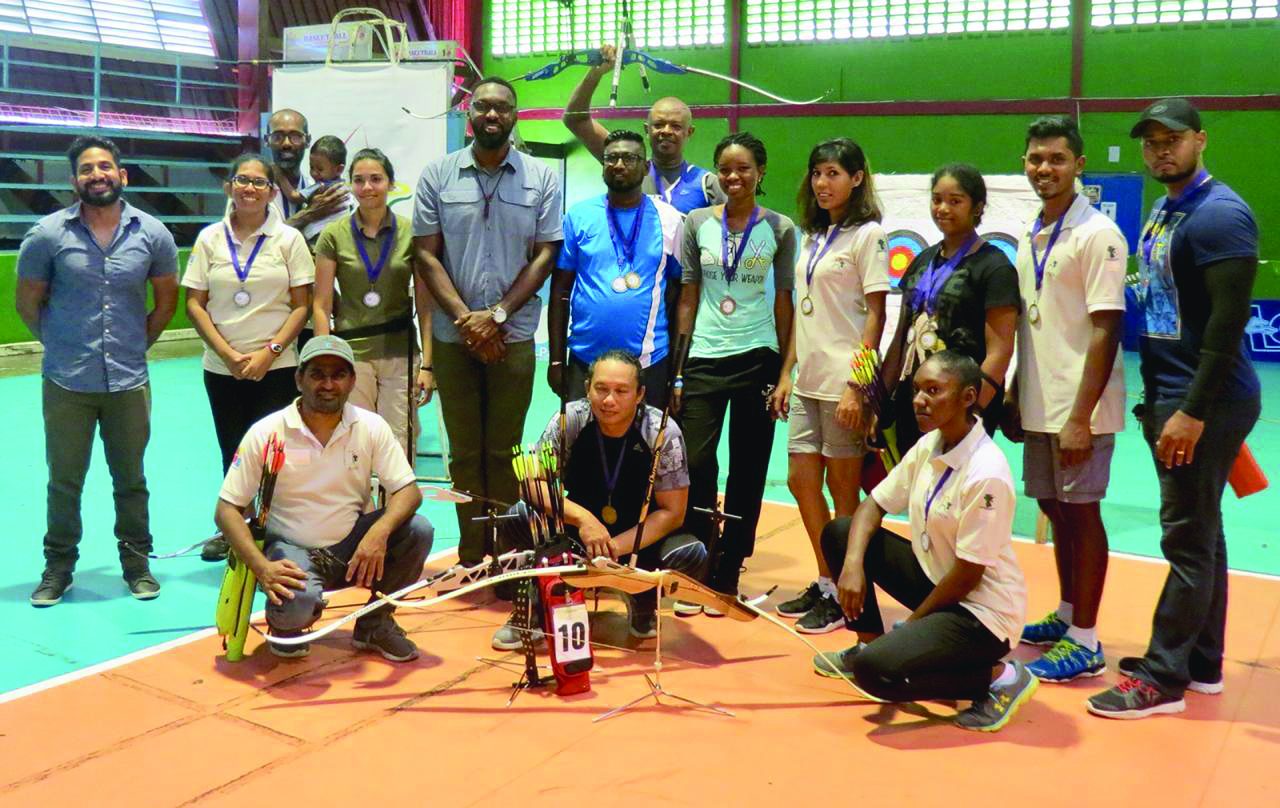 The action began at 12:30h after brief remarks and introduction of officials by Secretary General Vidushi Persaud-McKinnon; Director of Shooting Umasankar Madray and National Sports Commission Head, Director of Sport Christopher Jones, who declared the competition open.
Individual Match Play commenced with the women's quarter-finals and semi-finals whereby competitors were required to shoot four rounds of three arrows each, with the aim of winning the round (two points) and reaching six points in total to qualify for the final. These matches were hotly contested by the ladies as nerves seemed to play a part going to five rounds, but the gold was secured by Narda Mohamed, giving Shereeda Yusuf the silver.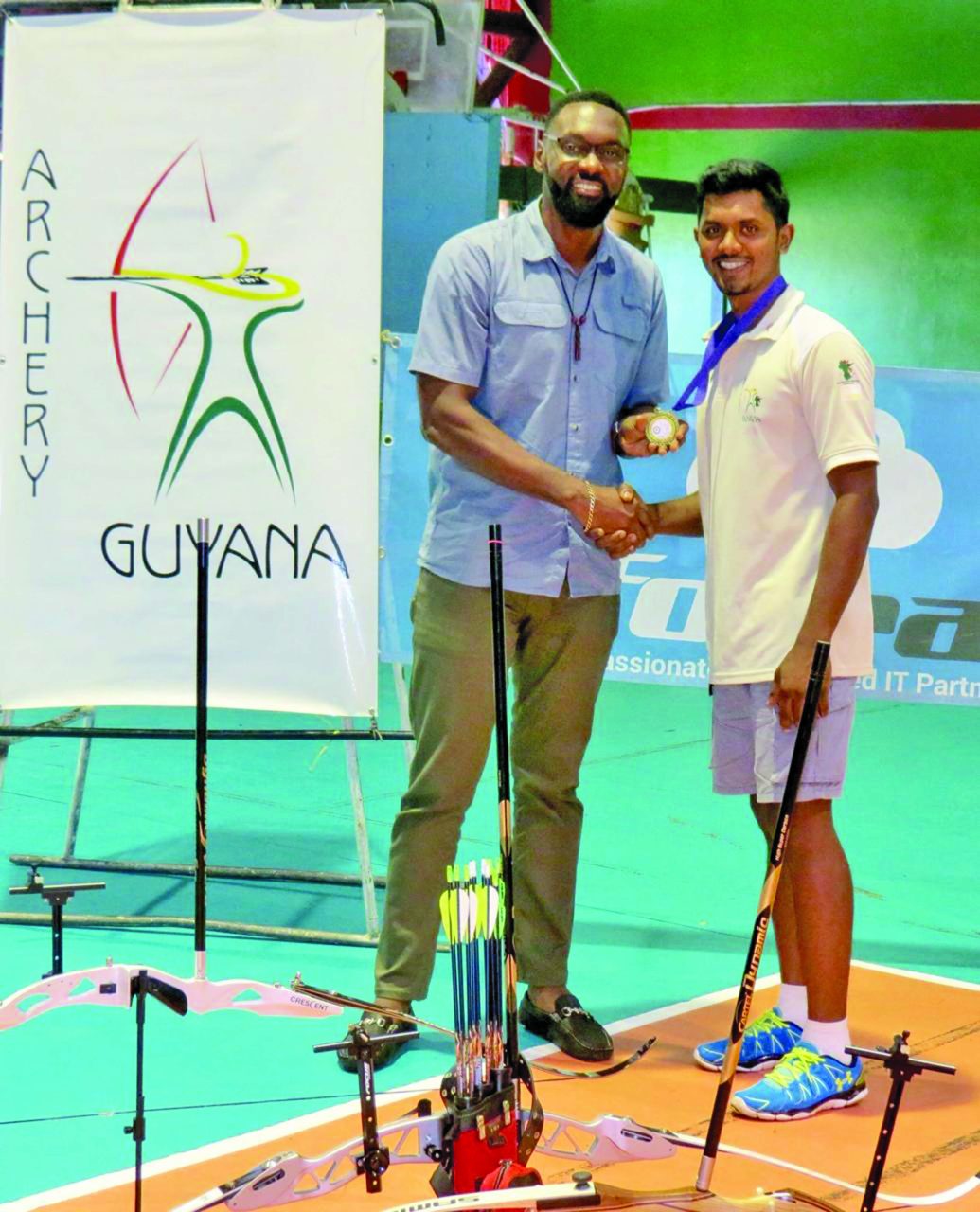 In the match-play between Samira Duncan and Persaud-McKinnon, the first end was won by Duncan with a score of 18 vs 7, but Persaud-McKinnon won the second round with her score of 16 vs. 5. Thereafter, Duncan won the other rounds, thereby securing the bronze medal.
In the individual cadet women's division, Talitha Kissoon and Jessica Callender went head to head with Kissoon winning gold and Callender winning silver.
Next were the men's individual match play; Umasankar Madray, Anand Mangra, Sean Duncan, Ryan McKinnon, Latchman Singh, Mohamed Khan, Jeewanram Persaud and Nicholas Hing in the individual men's division. The same four rounds were shot for the semis and final as competition heated up. Persaud was knocked out by Madray, while Duncan knocked out Singh, Mangra knocked out Khan and McKinnon knocked out Hing to gain top spots in the medal matches.
Competition was stiff between Mangra and Madray for the gold with both men determined to win. The first end was a win by Mangra with a score of 21 vs 17. The shooters tied in the second round with a score of 19 thereby each securing one point. However, the following two rounds wound up with Mangra coming out on top while Madray took the silver. Meanwhile, Duncan and McKinnon battled for the bronze. After winning the first three rounds thereby securing full points, McKinnon upset Duncan to take the medal.
As soon as the individual rounds ended, the team rounds began. In much the same as the ranking rounds, excitement between the teams was high as they shot their rounds hoping to come out as number one.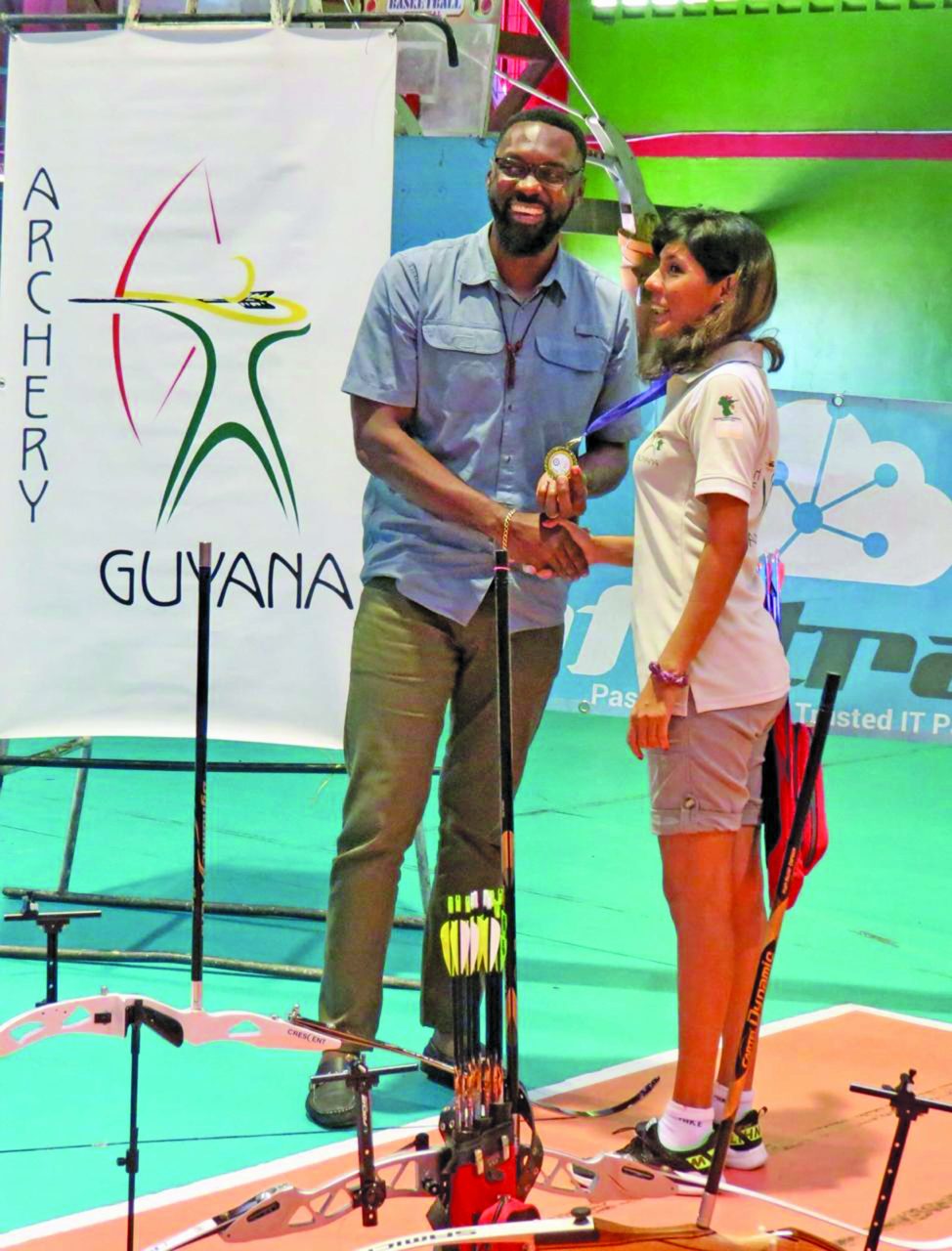 The top team gold medallists were Madray and Hing, while team silver medallists were Duncan and Persaud-McKinnon and team bronze medallists were Jeewanram Persaud and Kissoon.
All medals were sponsored by the National Sports Commission and presented by Director of Sport Jones to each archer. In his closing remarks, Jones expressed his commitment to seeing archery's development in the schools and the regions, while working along with Archery Guyana.
Archery Guyana's next and final archery competition to close the year will be the 2018 Outdoor Recurve Championships on Sunday, December 16 at the Carifesta Sports Complex Ground.
Results of Archery Guyana's 2018 Indoor Recurve Championships – Sunday, December 2:
Individual Women
Gold – Narda Mohamed – 77
Silver – Shereeda Yusuf– 69
Bronze – Samira Duncan – 62
Individual Men
Gold – Anand Mangra – 85
Silver – Umasankar Madray – 74
Bronze – Ryan McKinnon – 66
Individual Cadet Women
Gold – Talitha Kissoon – 65
Silver – Jessica Callender – 40
Teams
Gold – Umasankar Madray & Nicholas Hing
Silver – Sean Duncan & Vidushi Persaud-McKinnon
Bronze – Jeewanram Persaud & Talitha Kissoon