GFF-ALWAYS Championship Cup 2019…
Competition in the Guyana Football Federation (GFF)-ALWAYS Championship Cup featuring six female clubs is set to continue today at the GFF National Training Centre at Providence, East Bank Demerara.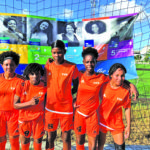 Today's double-header will see Lady Panthers taking on Foxy Ladies from 13:00hrs, with the main attraction being the match involving the Guyana Police Force and Fruta Conquerors, which commences at 14:30hrs.
Sunday's action will see Lady Panthers and Fruta Conquerors engaging each other from 13:00hrs, followed by a clash between Santos and the Guyana Police Force (GPF).
All teams are being urged to be at the playing venue at least one hour prior to the start of their respective matches, in order to facilitate a prompt kick-off.
In last weekend's opening matches, Fruta Conquerors recorded the largest margin of victory when they whipped Santos 10-0, while the Guyana Police Force lost back-to-back matches to Foxy Ladies 0-2 and Lady Panthers 3-0.
Conquerors were led to their huge win by Abiosi Heywood, who led with a hat-trick (19th, 29th, 39th); and by a brace from each National forward Tiandi Smith (15th, 36th), Lakeisha Peasron (10th, 55th) and Shayma Daniels in the 44th and 52nd minutes. The other goal came off the boot of Shanic Thornhill in the 62nd minute.
Foxy Ladies, in their 2-0 win over Guyana Police Force, got their two goals either side of play from Shontel in the 11th minute and Janel Edmonson in the 36th minute.
Lady Panthers' 3-0 win, which was also over the GPF, was built around strikes from Bliz Hope in the 13th minute, Albau Marquez from the penalty spot in the 55th minute, and Shavey Reuben in the 60th minute.