By Brandon Corlette
Newly-appointed West Indies Women's Captain and Barbados Captain Hayley Matthews was in full delight after reclaiming the CG Insurance Regional Super50 championship. Barbados played without the star player Deandra Dottin and Shamilia Connell, who was injured.
All the Caribbean players were present at the Ramada Hotel and were rewarded by the Guyana Cricket Board (GCB) and Cricket West Indies (CWI) for their outstanding performances.
Matthews, who scored the most runs in the Super50 tournament, with 119 runs and claimed eight wickets in four matches, said: "I think throughout the entire tournament, our batters and bowlers did a very good job executing every time that we went out there. We were able to put runs on the board and defend everything when we went out there. Kudos to all the players, I think it was a team performance and we are happy we came out on top."
In addition to Matthews, the Knight sisters, Kycia and Kyshona, were the only other batters to surpass the 100-run mark. Matthews was impressed with both sisters as well as medium pacers Shanika Bruce and Aaliyah Alleyne.
"They have been outstanding, the entire tournament, the Knight sisters with the bat, Shanika Bruce and Aaliyah Alleyne got wickets which was crucial overall," Matthews explained.
In terms of her personal performance, the star-all-rounder said she continued to train hard and reap rewards. "I have been working really hard over the past few months, coming off the World Cup, heading back home I tried to train really hard, so yea I am really happy I contributed to the team success," Matthews added.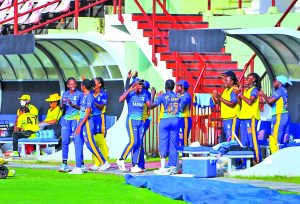 On Saturday, CWI had announced the appointment of Matthews as the West Indies Captain. The 24-year-old said she was humbled to be appointed the leader of the West Indies Women's team. "I am looking forward to the role, and looking to learn, but I am quite humbled and honoured to lead the team."
Barbados not only showed their class throughout the tournament, but the depth in exposing younger players during the absence of some senior players in Conell and Dottin. "I think it shows the depth we have in the team; the other players did well in her absence, so it was good to see, but we are really happy to have her back for Commonwealth Games," Matthews said.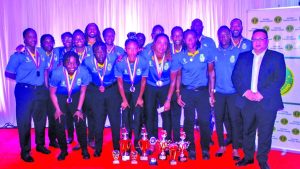 Barbados will be playing the Commonwealth Games in Birmingham, United Kingdom from July 29 to August 8, 2022.
The squad reads: Hayley Matthews (Captain); Deandra Dottin (Vice Captain); Aaliyah Alleyne; Shanika Bruce; Shaunte Carrington; Shai Carrington; Shamilia Connell; Keila Elliot; Trishan Holder; Kycia Knight; Kyshona Knight; Alisa Scantlebury; Shakera Selman; Tiffany Thorpe and Alliyah Williams.
The reserves are Asabi Callender, Rianna Gooding-Forte, Allison Gordon, Krisanne Howell, and Charlene Taitt.