Sections of the media on Wednesday boycotted the New Amsterdam Harmony Village, held at Matthew Allen Road and hosted by the Ministry of Social Cohesion.
Braving the rain, media operatives walked out during the opening ceremony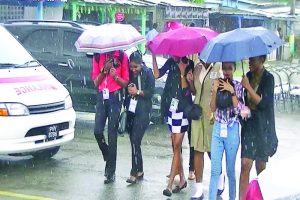 because organisers had told them they had not been catered for, and thus they could not occupy positions at the front of the arena. They were instead asked to go over to a nearby shop, which was closed at the time.
In the heavy downpour, persons who were giving coverage for both television stations and newspaper publications had to leave. However, reporters, who worked with Government agencies remained.
The event was attended by acting President Moses Nagamootoo, Minister of State Joseph Harmon, Social Cohesion Minister Dr George Norton, and Minister within the Finance Ministry, Jaipaul Sharma.
Contacted for a comment on the issue, Social Cohesion Minister Dr George Norton said there indeed was no place at the front for the media, but he would have to determine who had asked the media to set up an alternative location.
He noted that it was not a policy position to leave the media out of the event, because the media plays an integral role in the agenda of social cohesion.
Meanwhile, one of the exhibitors, Vincent 'Tanna' Griffith, told Guyana Times that he had difficulty getting into the arena to display his sculptures.
"When I reach here, the police say I cannot come in because the Prime Minister in there. So I had to leave all my work outside and wait till the Prime Minister and the other ministers left, and then come inside."
Griffith said it was a good initiative to have the cultural fest, being called "Harmony Village", but he was hoping to capture the attention of youths and get them interested in sculpting.
At the launch of the event, Minister Norton had said it was conceptualised by the group as a spin-off of the inaugural Ministry of Social Cohesion's Harmony Village, which was held in Georgetown in March. The New Amsterdam event seeks to celebrate cultural diversity while promoting and enhancing regional and national unity with an aim to providing opportunity for the residents to more fully appreciate the country's diversity and gain a better understanding of what social cohesion is all about.