This year, dozens of Guyanese will be heading to the Rupununi to relish the experience of life on the 'Wild Side', as the annual rodeo 'comes to town' at Lethem. And while fans are preparing to head south of Guyana, "Rodeo King" Richard Peters, fondly called "Chado" by his peers, is actively preparing to defend the crown which he won last year when he outrode the competition at the Rupununi Rodeo.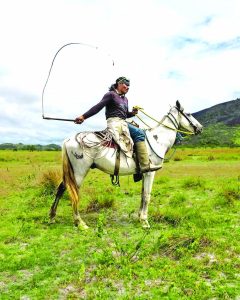 Hosted by the Rupununi Livestock Producers Association, the Rupununi Rodeo will be held at the Triple R Rodeo ground this Easter weekend, and Peters has expressed hope that he would repeat the feat.
"I plan to ensure I return as champion," Peters told Guyana Times from his home at Wichabai, outside Lethem, over the weekend.
Winning record
Born at Dadanawa in the Rupununi, Peters has had a winning streak in the major events at last year's rodeo, and he plans to repeat the streak this year. He won a place in the bull-riding competition, bare-back bronco competition, and placed first in the saddle-bronco aspect of the event.
He said he first became "Rodeo King" in 2019, and there was stiff competition at the time. In order to become the rodeo champion, one must outride others in each of the major events: the saddle bronco, bare-back bronco, and the bull-riding competition. He said there are other events in which he participated and won. Those events include the best dressed vaquero, calf-roping, wild-cow milking, and steer -roping.
Started in Berbice
The 33-year-old Peters said his career did not begin in the Rupununi, but in fact on the Coastland, at Rising Sun on the West Coast of Berbice around 2007. He said his father taught him the skills required to become a cowboy, and he plans to pass on those skills to his three sons, who are aged 9, 5 and 3.
He said he started riding horses at age 9, and that he also rode the wild horses as a 16-year-old, and this contributed to him being a skilled cowboy. "Riding the wild horses requires good skills," he said.
He noted that as a teen at the ranch at Dadanawa, he would assist in catching wild horses and taming them. As for his preparations, he said he and another colleague at the Wichabai Ranch have been sharpening their skills for the rodeo weekend, which runs from April 8-9 at Lethem. "We would train in the corral, I try to train on the wild bull, " he said.
Peters said he has high expectations this year as regards the rodeo, and he expects many Guyanese from the Coastland to venture down to the Rupununi to experience the calendar event. "I hope to win in the events (in order) to return as champion," Peters reiterated.