By Akeem Greene
Benjamin Mekdeci and Taylor Fernandes are making good on their quest for Under-19 title glory after they progressed to their respective finals of the Caribbean Area Squash Association (CASA) Junior Championships when action continued at the Georgetown Club on Monday evening.
Mekdeci thumped Jamaica's Jonathan Walker in straight sets, winning 11-1, 11-7 and 11-6. Though the margin spells a one-sided contest, that was far from the reality as Mekdeci was pushed on several occasions by his counterpart who showcased some cheeky dabs.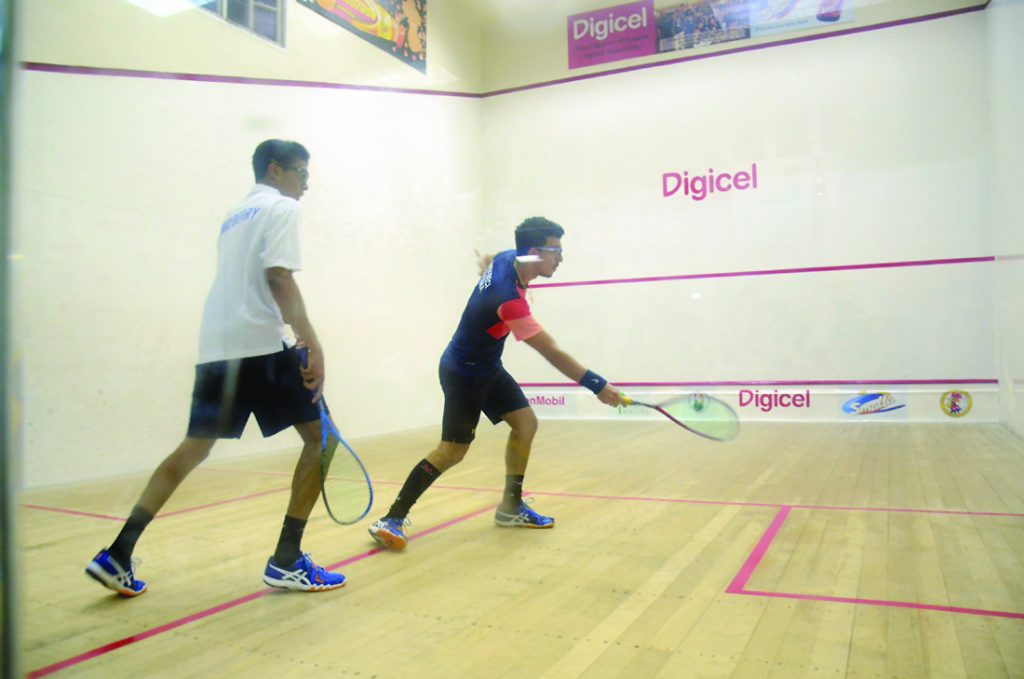 However, with the home court advantage and supportive fans, the Guyanese captain withstood the pressure with his own nifty plays to seal his spot in today's final against Barbados' Josiah Griffith. Griffith won 11-5, 11-13, 11-8 and 11-10 against Jamaica's Tahjia Lumley.
For Fernandes, she was pushed by Trinidad's Marie-Claire Barcant to win 11-5, 2-11, 11-3, 11-5. Fernandes is expected to face Barbados' Amanda Haywood.
Favourite Daniel Islam fell in straight sets to St Vincent and Nevis' Kia Bentick in straight sets (7-11, 9-11, 10-12).
Likewise, Makeda Harding suffered a crushing defeat (8-11, 6-11, 5-11) at the hands of Jade Pitcairn  which means she has to face Barbados' Jada Smith-Padmore in the third-place clash.
Joy soon returned for the home team, when Shomari Wiltshire reached the Under-15 final after winning 11-2, 11-3, 11-7 against Barbados' Darien Benn. Trinidad's Christopher Anthony will face Wiltshire after he won against Cayman Islands' Charlie Riker. Anthony won 11-1, 7-11, 4-11, 11-6 and 11-3.
Fellow U-15 competitor Abosaide Cadogan was pushed by fellow countryman Madison Fernandes, but withstood the heat, winning 11-8, 10-12, 11-7 and 11-3 to set up a final showdown with the Bajans' Chelsie Samuel.
Samuel won her semi-final against St Vincent and Grenadines' Giovanna Miller-Alexander in straight sets (11-5, 11-8, 11-7).
In addition, Kirsten Gomes has advanced to the final of the girls' U-13 against Barbados' Sumairaa Suleman,  but in the boys' category, Michael Aphonso fell to Jace Jervis and will now have to do battle in the third-place play-off against Alex Stuart.
In the U-11 final, Mohryan Baksh  will face Trinidad's Seth Thong, while Beau Fernandes is leading the local charge in the girls' category.
All finals will be played today with matches commencing from 09:00h.
The team segment will begin on Wednesday and conclude on Saturday with the hosts hunting their 13th consecutive title.
Team Guyana reads – Boys: Shiloh Asregado, Chad De Abreu, Nathan Rahaman, Louis Da Silva, Mohryan Baksh, Demetrius De Abreu, James Mekdeci, Michael Alphonso, Ethan Jonas, Shomari Wiltshire, Gianni Carpenter, Samuel Ince-Carvalhal, Lucas Jonas, Daniel Islam, Anthony Islam, Ben Mekdeci, Alexander Cheeks and Rithew Saywack.
Girls: Christiana Fernandes, Isabella Ramjohn, Beau Fernandes, Kirsten Gomes, Paige Fernandes, Aliyah Persaud, Abosaide Cadogan, Madison Fernandes, Haley Carpenter, Makeda Harding, Sarah Lewis, Rebecca Low and Taylor Fernandes.