There is something sinister about Government's attempt to downsize the local sugar industry, even after promises were made to the electorate in 2015 that tangible investments would be made in the Guyana Sugar Corporation (GuySuCo) to assist with its recovery and sustain thousands of jobs.
This is according to former President Donald Ramotar, who told Guyana Times in a recent interview that having paid attention to the Government's statements on sugar, he has come to the realisation that something seemed a bit off, especially since it has now flip-flopped on its decision.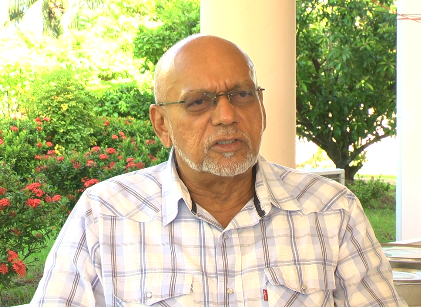 Ramotar recalled that back in 2015 when Finance Minister Winston Jordan presented the annual budget to the National Assembly, much emphasis was placed, during his speech, on the importance of the sugar industry and how Government planned to keep it alive.
Earlier speeches made by President David Granger, before the 2015 election and after he assumed office on several occasions, highlighted the importance of sustaining the industry. And he had promised to do whatever it took to keep the industry afloat despite the challenges. However, after about one year in office, the President and his Cabinet in 2016 changed their position and moved to set up a Commission of Inquiry (CoI) to assess the industry's performance. At the completion of the CoI, no recommendations were made to either downsize or close the industry.
However, the Government on May 8, 2017, through Agriculture Minister Noel Holder, presented a white paper on sugar, revealing a massive policy decision to commence the downsizing of the industry.
"So, why have they changed their mind? That has been bothering me. They knew. They can't say that they didn't know before they got into Government the state of the sugar industry," Ramotar stated.
According to the former Head of State, the management and board of GuySuCo appeared before a Parliamentary Economic Committee in the National Assembly when the coalition parties were in the Opposition and gave them every detail and piece of information on the state of the industry.
"So, again, why have they changed their mind?" he questioned.
Ramotar continued: "That is what is bothering me all the time, because this was not their original position. Their position in less than a year changed and as I mentioned for emphasis, it's not a case where they don't know what they were inheriting, they knew."
Value added
While recognising that the industry has many challenges, Ramotar maintained that under his leadership, Government had piloted value added production as a means of making the industry more viable and sustainable, because they knew how important it was to many Guyanese.
"One of the first things my Administration did was to make the industry more flexible. Already at Albion, we had experiments going on with ethanol. So, we were planning to switch from sugar to ethanol and when the price for sugar was high, we could have come back," he recalled.
In addition to that, the former People's Progressive Party/Civic (PPP/C) Government also moved to find other solutions and by doing so, steered GuySuCo towards more value added production, where the company began refining sugar. Ramotar said the intention then was to ensure that Guyana tapped into the market, having been a producer of raw sugar for decades and given the fall in international prices for sugar.
The former President also pointed out that as a member of the Caribbean Community (Caricom), Guyana could also take advantage of that market, which has an annual demand for 220,000 tonnes of refined sugar. "With the arrangements we have in Caricom, most of that market could have gone to GuySuCo, only if this Government would make the investment and go into that direction of refining sugar," he stressed.
Further, Ramotar believes that co-generation plants could also be placed at Albion and Enmore Sugar Estates to assist with the provision of electricity for thousands more Guyanese. He said if the Administration was serious about creating a green economy, this would be a step in the right direction.
"You could also generate electricity with bagasse and cut down on the amount of wood used to restart the factories. Millions [are] spent on buying wood. Putting them in boilers damage the tubes", he said, while also pointing out that GuySuCo could make a big profit from molasses and crude alcohol.