Students attached to the faculty of engineering and technology, at the University of Guyana (UG) will now enjoy a boosted research and training environment after some 23 Leitz Polarising microscopes were gifted to the department on Friday by the University of Toronto.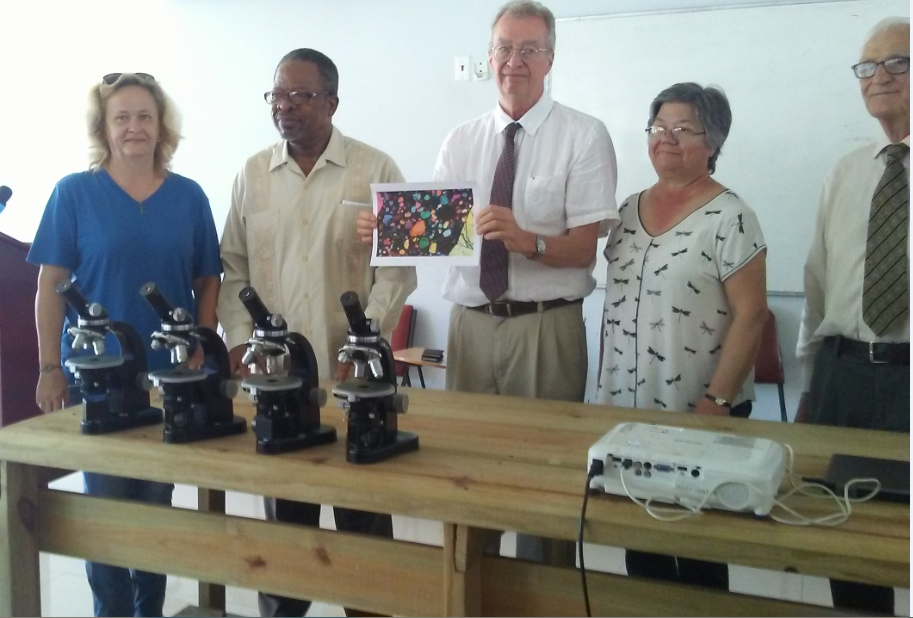 The simple handing over ceremony in the faculty's lecture room was graced by the attendance of both students and authority officials of the University.
In opening remarks, UG's Vice-Chancellor Professor Ivelaw Griffith expressed gratitude for the donation while he pointed out that the University finds pleasure in having foreign partners who demonstrate an interest in the University and contributing to the development of Guyana's human resource.
"We have the wonderful opportunity at our University of strengthening what we do and how we do, we also know that those opportunities presents occasions for partnerships. Partnerships that are tangible demonstrations of the interest in the University, in the interest of our nation….it is an extra pleasure to have citizens of other nations but in the academy who are able to reach out and connect to help us strengthen what we do and how we do it," he stated.
Dean of the Faculty of Engineering and Technology, Elena Trim in her brief remarks reiterated thanks to the University of Toronto as she explained that the faculty will benefit greatly since prior to the donation, students were not privileged to utilise and access such equipment to have laboratories done. "These microscopes were donated for the main reason of having your laboratories done, we were not able to do so previously because we did not have microscopes….we have to maintain these microscopes because they are very expensive and they are going to keep the faculty up and running and be prepared for the near future."
Speaking on behalf of the University of Toronto, Professor Daniel Schulze expressed fulfilment in being able to make such a valuable contribution to Guyana's University and its students.
Schulze added that the high-quality equipment will mainly benefit engineers in the upcoming petroleum sector, he further underscored that it is intended to be used for the sole benefit of the students.
"I think this is the way to go, because we do need a microscope which is good for petroleum-based engineers….so it will [have] a long term use, it's a basic microscopes we can use in junior years…..we hope that it be continued to be put to good use," he said.
To show notable appreciation, Professor Schulze was presented with tokens on behalf of the University students after which Niossi Alsopp, a student of the aforementioned faculty, concluded the event by expressing delight and acknowledged the contributions being made.