By Davina Ramdass
The Chief Medical Officer (CMO), Dr Shamdeo Persaud on Friday said that Guyana has been facing challenges in the health sector when it comes to meeting the needs of the population, especially those who require treatment for cancer.
"Health care is a very dynamic process and I think that from the diversity of the different conditions for example and the demand for additional services is really growing rapidly," Dr Persaud said in an interview with Guyana Times.
The CMO explained that Guyana has been trying to keep up with the global health trends but has been failing to gain the requisite capacity in a few areas, with cancer being a major aspect.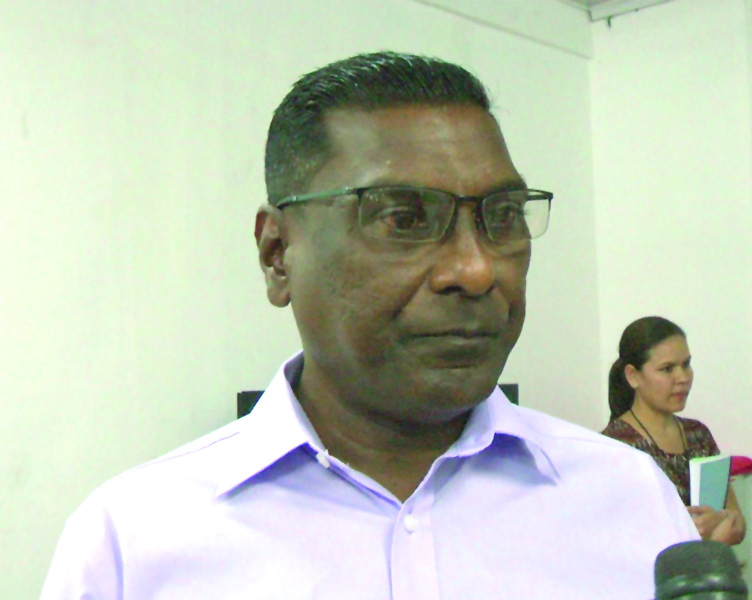 He noted that what the country has been trying to do is partner with the private health facilities and even overseas medical institutions to address those gaps.
Dr Persaud explained that in Guyana, the demand for a specific service may not be great in number, however it still remains crucial. He made specific reference to the three little leukemia patients who died at the Georgetown Public Hospital.
"Many times the demand might not be great in terms of numbers but it's essential, like the instance of children with leukemia for example so there might be a small number but they're also very precious Guyanese who really require this service so we try to partner with various institutions to get that going," he posited.
According to him, Guyana has been partnering with various organisations from North America to fill existing gaps. In addition he pointed out partnerships with Trinidad, Cuba and China which aid in identifying weak points while securing the relevant health professionals needed.
So far, the CMO said Guyana has had help to develop special services for neonates, as the health sector continues to grapple with a high rate of neonatal deaths.
"We also have some collaboration in cardiac care, well of course you know there is the existence of the Caribbean Heart Institute here at Georgetown Hospital but we have also been working with other partners to try to develop more timely diagnostic procedures like the echocardiograms and so on," he added.
The echocardiogram is a type of test that uses high frequency sound waves or ultrasound to make pictures of a patient's heart.
The CMO added that "the cancers are the ones that we still are in the stage of development so we are looking for persons who can contribute to helping us build those services."
He said he believes if Guyana is to up its game in this area, the country may very well require more specialised medication, better techniques and procedures and even additional equipment, among others.
"Hopefully our health service will develop as we go along," the CMO added.
The CMO's statements come at a time when even Head of State David Granger has been flying out of the country to be treated for Non-Hodgkin lymphoma, which is a type of cancer that develops in the lymphatic system.
Just recently also, the country's premiere health institution, the Georgetown Public Hospital, was placed in the spotlight after three children lost their lives as a result of negligence on the part of the doctors who were treating the children for various types of cancers.
An investigation found that the doctors at GPHC who administered the pre-chemotherapy drug did so without following protocol, which eventually led to the deaths of seven-year-old Curwayne Edwards on January 14; three-year-old Roshini Seegobin on January 18, followed by six-year-old Sharezer Mendonca who died on January 24.