Completed audit reports for financial activities at the Guyana Water Incorporated (GWI) throughout the years 2017 and 2018 have cited unaccountability for millions of dollars.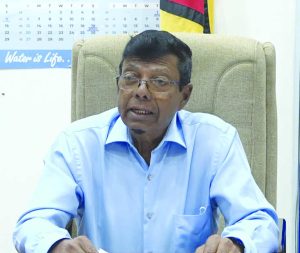 Chief Executive Officer (CEO) of GWI, Shaik Baksh revealed this at a press conference on Friday at his head office where he also stated that the discrepancies extended to customer debts.
"They could not account for the inventory in some areas. This was so large that it led to a qualified opinion by the editors – both in 2017 and 2018. You can't account for millions of dollars…The whole question of customer debts, there were a lot of grey areas. Those were the two main areas," Baksh told media operatives.
During this reporting period, GWI was being spearheaded by former Managing Director, Richard Van West-Charles. The audits have since been sent to the Office of the Auditor General. Meanwhile, the company is now working on the 2019 audit report and is eyeing completion this year.
"At the same time, we're working on the 2020-2021 financial statements so that by the end of the year, we're hoping to complete and be up to date with our financial reporting. This is important for any company or organisation, including GWI," he revealed.
The CEO added that the company's finances are now in order, through proper management. Within the past year, there have been small instances of theft and those employees have since been dismissed. Baksh said they have "tightened" control to prevent a recurrence.
One year ago, GWI unearthed almost $30 million in fraudulent wire transfers. The fraud was discovered by the water authority's Finance Department upon reconciling accounts for March 2021. The sum of $17,489,417 was debited from GWI's account on March 16, 2021, while on March 24, 12,327,515 was transferred.
Later in June 2021, amid several damning revelations into the financial and procurement operations, a forensic audit was called. Baksh had underscored that the probe was necessary into the financial irregularities and procurement breaches within the utility entity. The Special Organised Crime Unit (SOCU) was also called in to investigate.
Over the course of four years, an internal audit would have found that some $1.8 billion was expended to purchase SeaQuest (a water treatment chemical) which involved another company that led to a violation in the procurement laws. Along with this issue, fictitious charges and questionable delivery of goods were unearthed by an internal auditor which will also come under the scrutiny of the forensic investigation.