China's new Ambassador to Guyana, Cui Jianchun, on Wednesday met with Minister of State Joseph Harmon at the Ministry of the Presidency to discuss areas of collaboration and mutual interest between his country and Guyana.
This is the first meeting between the Minister and the Ambassador, who was accredited by President David Granger on January 4, 2017 and who replaced Ambassador Zhang Limin.
Among the issues discussed were several infrastructural projects aimed at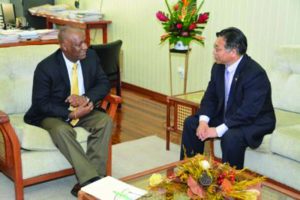 collaboration for the development of Guyana's 'green' agenda, as well as other areas of cooperation inclusive of trade, education and capacity building, the Government Information Agency (GINA) reported.
Minister Harmon, in welcoming the Ambassador to Guyana at the Ministry of the Presidency, said the two countries have enjoyed cordial, friendly relations for many years and it is his hope that this can be further advanced through his appointment. "China has been a generous friend to Guyana since the early days. Throughout all of it, it has always been a great relationship and it goes beyond projects and opportunities and that is something that is important to us… This is an exciting time for you as Ambassador and we see a long and fruitful relationship between our countries," Minister Harmon said.
Minister Harmon said that the Government is focused on working with international partners for the development of the country's vast resources. "For too long we have heard about our potential. We are at the point of transitioning from potential to reality and that is the job we have as the Government. We have simply heard about it for too long… We must now create a country of realities for our younger generations," Minister Harmon told the Ambassador.
Meanwhile, the Ambassador has committed to exploring ways in which the Government of China can collaborate with the Government of Guyana for the good of the peoples of both countries. As the countries celebrate 45 years of diplomatic ties this year, the Ambassador noted that this is an opportune time for the exploration for the development of partnerships on projects and opportunities, which can solidify the relationship between the two nations. "We can use the anniversary as an opportunity to do something for both countries," he said.