Mobile Money Guyana (mmg+), is now an available payment option for purchases of tickets, passes, or any other related documents for the second edition of the International Energy Conference in February.
During a press conference held on Monday, MMG General Manager Bobita Ram shared that this is another dimension for the team at MMG, being its first time in the energy sector.
"We're absolutely delighted to be a part of the International Energy Conference and Expo this year. You would have seen across the last two years, we were in Government…transportation, recently the Ministry of Home Affairs. Not to mention the hundreds of thousands of persons who use us today to pay their bills," Ram shared.
She added that this implementation will ensure a smooth process of making payments at any time and anywhere at customers' convenience.
"This is the first time we are in the energy sector and we're very very happy to be here. I know members of society…, organisations that are going to attend the conference and be a part of it want a seamless way to ensure their participation, and that's where MMG comes in. So, all of the local payments, all of the companies out there that have to buy their passes, you simply go onto the website…, book your passes, your ticket, whatever it is that you're buying, and then you easily…, in a matter of seconds…, make the payment with MMG," she explained.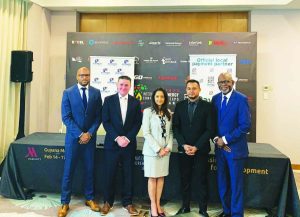 CEO of the International Energy Conference and Expo, Kurt Baboolall remarked that this conference is promised to be an exciting one, as he shared that many companies who were just exhibitors last year are now sponsors for this year's conference.
"There were a number of exhibitors last year that we see moving into sponsorship role this year, which is a very positive signal to us and they see great value in participating a second time… not only participating a second time but participating at a higher level," he shared.
The conference will also see the participation of a number of businesses from sectors such as logistics, healthcare, Ministries, telecommunications, companies within the energy sector, and more.
He added that the participation of everyone is important and he urged small businesses that wish to be a part of the conference to reach out if there aren't any suitable packages available on the website.
"The secretariat doors are open to any company that may…need a unique solution from our end so I encourage persons to kindly call us or visit our office. We welcome and we look forward to the involvement of everyone at the conference, so kindly reach out," he implored.
The conference this year, which will be held from February 14-17, will see a total number of 150 exhibitors, 30 sponsors, over 400 delegates and attendees, and approximately 36 speakers including several Heads of State, former Presidents, and multiple oil and gas officials.
Attendance opportunities will also be available for young professionals in both tertiary and secondary levels which will be announced soon.
Present at the press conference was GTT Chief Operating Officer Orson Ferguson, GTT Deputy CEO Richard Stanton, MMG General Manager Bobita Ram, Int'l Energy Conference and Expo CEO Kurt Baboolall and Alex Graham of Tagman Media.