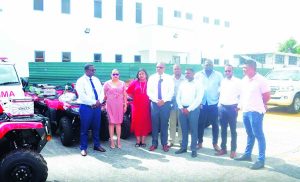 The Health Ministry on Tuesday distributed a number of vehicles to several regions to improve healthcare delivery. These include four ambulances, 16 All-Terrain Vehicles (ATVs) and three boats.
The regions that benefitted are Regions One (Barima-Waini), Two (Pomeroon-Supenaam), Six (East Berbice-Corentyne), Seven (Cuyuni-Mazaruni), Eight (Potaro Siparuni), Nine (Upper Takutu-Upper Essequibo) and 10 (Upper Demerara-Berbice).
"The boats, ATVs and ambulances that we've been able to hand out would certainly help the medical staff to deliver better healthcare in those regions," Health Minister Dr Frank Anthony said at the handing-over ceremony.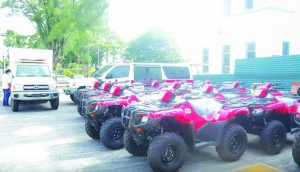 Five of the ATVs were given to Region Eight, four each to Regions One and Seven, and three to Region Nine. In addition, two boats were handed over to the officials of Region Nine and one to Region 10.
Further, Region Two received two ambulances while Regions Six and Nine received one each.
"These ambulances are going to enhance transportation of patients within these regions," Dr Frank Anthony said, adding that this donation complements the fleet of ambulances the Ministry handed out over the past two years.
In 2021, The Health Ministry handed over a new ambulance, valued at approximately $11 million to the Georgetown Public Hospital Corporation (GPHC).
Through the United States (US) Government, the Health Ministry also received vehicles and medical equipment worth $24 million and two vehicles valued at $7.5 million from the Central Islamic Organisation of Guyana in 2022.
Only recently, President Dr Irfaan Ali related that the Government is embarking on several initiatives to ensure the healthcare sector is modernised, including the introduction of telemedicine which has resulted in two lives already being saved.
According to him, by 2030, Guyana will offer healthcare services that are internationally recognised.
"In the next seven years, we are not trying to, by the grace and help of God, in the next seven years we are building in Guyana, a first-world healthcare system for our citizens and a healthcare system that is fit for purpose and one that will provide global healthcare services for the rest of the world. Mark this night," the Guyanese leader declared. "There is no rest in this sector in getting it to where we want to be."
Moreover, he said as more and more innovations take place in the sector, he called in financial and medical specialists as well as policymakers to start discussions on modern health insurance plans.
Meanwhile, the Government is moving ahead with the construction of seven new hospitals that will deliver quality health services to Guyanese in all regions.
These include a maternal hospital at Ogle, East Coast Demerara (ECD) along with general hospitals at De Kinderen, West Bank Demerara (WBD); Little Diamond, East Bank of Demerara (EBD); Enmore, ECD; Bath Settlement and Number 75 Village in Berbice.