Caribbean Motor Racing Championships
By Akeem Greene
Team Mohammed's Enterprise rider Bryce Prince seems to be the crown jewel in the Seaboard Marine Caribbean Motor Racing Championships (CMRC) as he is yet to be beaten and is seeking to continue his dominance when he rides this weekend for Guyana in the second round in Trinidad and Tobago.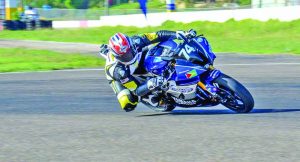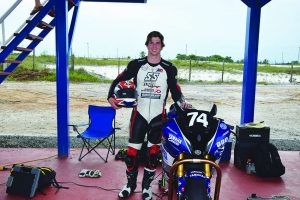 In an interview with Guyana Times Sport, the Yamaha R6 rider made it clear that he was hoping to maintain his sublime performances.
"Going into Trinidad I feel great, the track in Jamaica really suits my riding style, so I don't know what to expect in Trinidad. We have been very dominant, winning six out of six races so far in the Caribbean. It is great for our confidence and we look forward to Trinidad," he stated.
At the first round of the Championships in May at the Jamwest Circuit, starting the day on pole, he romped home unbeaten and in the process, set a new Superstock record of 1:15.5s.
Reflecting on his outing in Jamaica, the rider revealed: "It was very great to be able to raise the bar by setting a new track record in Jamaica. Lots of fans. I wasn't fond of the amount of time on the grid though."
Prince, who is the reigning MotoAmerica Superstock 600 Champion, has severed ties with Meen Motorsports and will compete his season in America 'on his own'.
It possibly gives the 24-year-old more opportunities to execute his skills for Guyana , which he contends is a way of raising the bar.
"As with any series we always want to elevate the bar; racing with faster people will elevate the speed of the riders in the Caribbean, which is a good thing for outlets sport."
He is currently sixth in the MotoAmerica Bazzaz Superstock 1000 point standings. He has finished on the podium two times and finished inside the top five five times in the first 12 races of 2017.
Prince is extremely grateful for the support of Mohammed's Enterprise which extends to him riding in the United Sates, and is encouraging fellow riders to come for the experience and challenging tracks.
The rider will be joined by Group two and three driver Rameez Mohamed (Toyota Starlet & Honda Civic); Group Four driver Andrew King (Mazda RX-7) and Group two driver Azaad Hassan (Toyota AE91).
The championships will move to Barbados on September 3, then to Guyana for the final leg on November 12.
Last year, Trinidad and Tobago, who lost the title in 2015 by eight points to Guyana, recorded a whopping 1481.5 points, outscoring the second-placed Barbados team by 793 points.
Barbados' tally at the end of the four rounds was 688.5 while Guyana finished third on 648.5; Jamaica (492); Cayman Islands (60) and CAMS/USA rounded off the points standings.
However, in the two-wheel category, Guyana soared to the top of the table, accumulating 647 points with Trinidad being their closest challenge on 169 points.