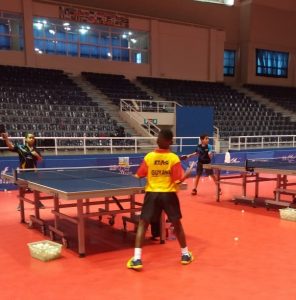 Guyana's National Under-10 Boys Champion Malachi Moore has been given a life-changing opportunity to participate in the International Table Tennis Federation (ITTF) Caribbean Hopes Table Tennis training camp. Moore is currently in Santo Domingo, Dominican Republic, taking in all that he can at the high-performance camp, which began on August 11 and will run until August 19, 2019. The Caribbean camp will see 15 of the best boys and girls ages 11 and under participating.
A product of the Malteenoes Table Tennis Club, Moore is under the tutelage of the experienced Idi Lewis. The youngster and his mother winged out on Saturday, August 10, 2019, en route the Dominican Republic, where they arrived safely. Moore had his first training session the following day (Sunday).
The programme, which is aimed at providing, nurturing and giving early exposure to young talents, is being conducted under the guidance of Venezuela's experienced ITTF expert Luisana Perez. For the eight days that they players will be encamped, training will be two 3-hour sessions per day; each day commencing at 09:00h and concluding at 18:30h. Additionally, coaches will have the opportunity to attend workshops and seminars, followed by a Challenge tournament. Moore is expected to be supported by a coach from the Dominican Republic, a request made to Juan Vila, Pan American and Dominican Table Tennis Federation President.
The World Hopes programme targets players in the Under-11 category, and is the first step on the road to high performance. Conducted under ITTF Education and Training Programme, it is an ITTF global continental programme which offers young players – who are selected on the programme from the different continents— a sustaining pathway to benefit from training equipment and support.
The Caribbean Hopes training camp offers players from the region the opportunity to possibly qualify as part of the Pan American team— which resents the Latin continent against the continents of Europe, Asia, Oceania, North America at the Worlds Hopes Camp and competition
Moore was selected by the Guyana Table Tennis Association (GTTA) along with 2019 National Girls 11 and 13 cadet champion Jasmine Billingy. However, Billingy was deemed ineligible for the camp, given the age stipulation which required that players must not have been 11 years by January 1 2019, as such, Moore was Guyana's lone participant at the camp. The eligible players could have turned 11 years throughout the course of 2019, but could not be 11 on January 1. This fact nullified the talented Billingy's possibilities of qualifying even if she wins the Hopes camp. Based on the cost, a decision was taken to have her solely participate in the Caribbean Mini and Pre-Cadet championships.
The two players are amongst a group of other talented players to lead Guyana's charge at the 2019 Caribbean Mini and Pre-Cadet Table Tennis Championships scheduled for August 19 to 27 2019 in the Dominican Republic.