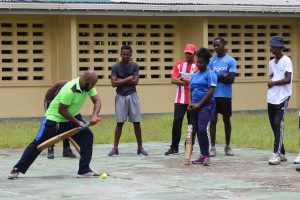 After the holiday on Monday last, the first ever Tucber Park Cricket Club Summer Camp commenced on Tuesday, with 30 plus participants at the Berbice High School Ground.
The opening ceremony saw New Amsterdam Mayor Winfred Haywood, Berbice Cricket Board (BCB) President Hilbert Foster and other executive members of the Tucber Park Cricket Club.
At the opening ceremony, BCB boss Foster encouraged the youths to absorb as much knowledge from the camp and say yes to education and no to drugs. This academy, which was officially opened on August 13, will run from 09:00h to 12:00h local time; the final day will be on Saturday, August 17, 2019.
Tucber Park Cricket Club Secretary Tamesh Mohabir disclosed that this cricket camp will target the ages of 10 and above.
Mohabir disclosed that the main aim of the camp is to improve the cricketing abilities of the youngsters and give them an opportunity to use their summer time wisely.
"Most of them are on summer vacation and this camp will be a meaningful experience", Mohabir disclosed.
The coaching of the summer camp will be conducted by Cricket West Indies (CWI) level-three Coach Julian Moore, as well as CWI level-two Coaches Tremayne Smartt and Anthony D'Andrade.
The opening day of the camp saw the youths being exposed to the techniques in batting. Coach Smartt took control of the younger group, while Coach D'Andrade took charge of the under-19 and more senior members.
As the camp progresses, the participants will be exposed to all aspects of the game: fielding and bowling, in addition to batting, and they will be exposed to theoretical/indoor sessions.
Former West Indies Test bowler Colin Stuart will be conducting the fast bowling session, while veteran Michael Hyles and CWI level-three Winston Smith will also chip in with a few sessions.
This camp will further expose the youths to basic skills in cricket, life skills, leadership, the importance of education, etc.
Some of the sponsors for the event are Trophy Stall, Big B's Restaurant, Caribbean Vibes Restaurant, Joe Ramsunhai, Quincy Rohleur, Asquith Hamilton, and Fitness 53, among other sponsors.