…as 2-week UK funded inter-agency training concludes
By Jarryl Bryan
With the conclusion of anti-corruption training that had involved investigators drawn from different agencies, United Kingdom white collar crime expert Sam Sittlington cited the need and possibility for more training to be provided.
He made this statement during the conclusion ceremony of the UK funded, two-week long training exercise. Sittlington, who is an adviser to the Special Organised Crime Unit (SOCU), zeroed in on some of the areas the ranks covered during the training; including preserving the continuity of technical evidence such as computer.
"Over the course of the past two weeks, the participants have been involved in learning about fraud investigations, typologies, body language of suspects, trying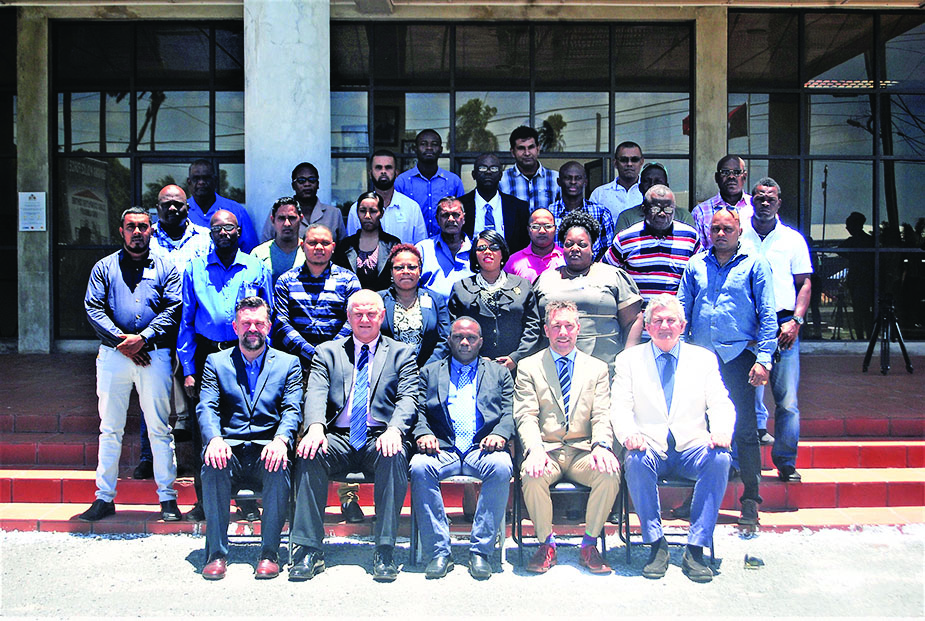 to identify if someone is a believable liar or unbelievably lying or both."
One aspect, besides power point exercises, involved Sittlington and the trainers presenting 'facts' about themselves, which the participants in practise had to decipher the truthfulness of. The SOCU adviser noted some other aspects of operational training when handling fraud probes that the investigators were exposed to.
"In terms of the fraud investigations, they learned about the fraud model, they learned about independence, how to conduct their investigations with integrity without conflict of interest. They learned about expertise, how to gather their evidence, they learned about scope of investigations and proportionality."
"They learned about reporting and how their case files may go to the DPP (Director of Public Prosecutions) or Police legal adviser. And then, of course, dealing with technical support and how you deal with computers if you're seizing computers and other technical equipment, how it is done properly and how you should deal with continuity of evidence," he related.
Trans-national crime
Meanwhile, acting Crime Chief Paul Williams noted the usefulness of partnering with experts from different jurisdictions. Observing that local authorities don't have the answers to everything, Williams said that an important part of training is acknowledging the culture of the jurisdiction and the existing gaps.
He spoke of the severity of trans-national crime. According to Williams, mutual assistance is essential to tackling this scourge. Williams charged the ranks to speak out whenever they observe breach of ethics, even from those in authority.
It is understood that the training was arranged by the UK High Commission through its Special Adviser attached to the Special Organised Crime Unit. Training was conducted by two UK experts who are experienced in anti-money laundering and white-collar crime investigations.
Trainees were drawn from several law enforcement agencies, including SOCU, the Customs Anti Narcotic Unit (CANU), the Criminal Investigative Department, the State Asset Recovery Unit and the Financial Intelligence Unit.
There have been several training initiatives for locals where UK specialists have been involved. Last year, local immigration officers underwent the Risk and Liaison Overseas Network (RALON) training conducted by the UK's Immigration Enforcement International.
The training had covered three fundamental issues: the overview of human trafficking, the enhancing of interview skills when dealing with arriving passengers and overall increased awareness of the latest trends and concerns in the wider Caribbean.
The UK has done much of its security sector collaboration through the security reform project, which began in 2007, was scrapped in 2009. It was subsequently reintroduced after talks with the administration.
Government believes that, once implemented, Guyana's security sector will be significantly strengthened; and, hopefully, this will lead to a reduction in the number of illicit activities that take place.
President David Granger has also said there is need for a stronger Police Force, one that is better equipped with all tools necessary to function adequately.