Bringing the total number of Guyanese returning home to 44, a batch of 16 persons comprising mainly women and children were the latest to arrive from St Martin.
The group arrived at the Eugene F Correia International Airport on Wednesday evening and were welcomed by Minister of State Joseph Harmon and Citizenship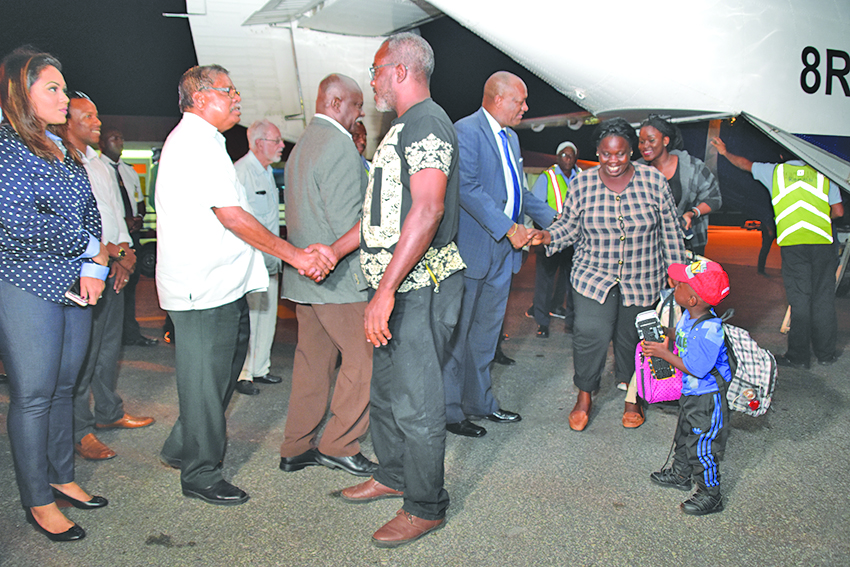 Minister Winston Felix.
A Guyanese, who arrived on the Wednesday evening flight, said she was on vacation at the time when the hurricane hit. She said it was her first time experiencing a hurricane and hopes she will never experience another one in her lifetime, and is very happy to be home with her family.
As a part of the ongoing efforts to rescue Guyanese from hurricane-ravaged islands within the region, a total of 16 locals returned home on Tuesday evening, among the second batch of evacuees being flown out of St Martin.
Among those were Aletha Khandhai, a mother of two, who migrated to St Martin seven years now. The distressed woman and her daughters were ripped from their new found home following the destruction brought on by Hurricanes Irma and Maria which hit the island just weeks ago.
Khandhai revisited the horrifying experience and pointed out that it was the most frightening natural disaster she had ever witnessed.
Also speaking to the media moments after touching down at the Eugene F Correia International Airport on Tuesday evening was Aretha Woodruff, a cosmologist who had been plying her trade for the past 16 years in the now almost gutted Caribbean nation.
Woodruff noted that following the hurricane, the living conditions on the island became practically inhabitable, forcing her to return home until the recovery efforts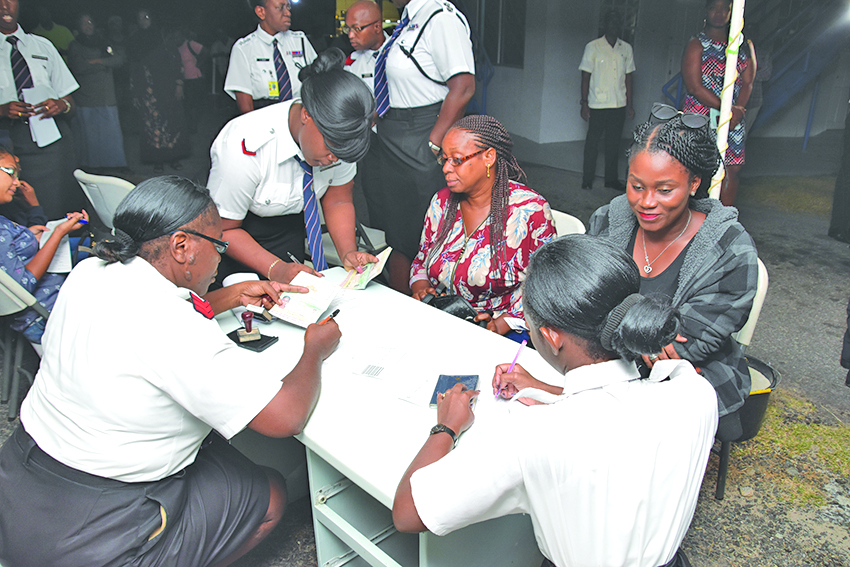 are well underway.
The women stated that, "The reason why I wanted to come home was because we can't get anything done because I have no water, no electricity at the moment. And all the schools are shut because it is very bad at the moment and I need my daughter to get in school. So I just come so that she can get in school, until things get back to normal, I'll go back."
With that being said, the evacuees expressed delight in being back at home after the life threatening disaster and thereby thanked those who played a part in the rescue mission.
Meanwhile, receiving the hurricane victims was Minister Harmon who highlighted that Government is always willing to lend a helping hand to Guyanese who are in need.
Harmon went on to say that despite the regrettable circumstances, his Administration is extending a warm welcome to the distressed countrymen.
"This is a joint effort on the part of the Government of Guyana, the Private Sector, the Civil Defence Commission and several well-meaning citizens who have actually come together and put their resources to ensure that those persons who were affected by hurricanes, they can be brought home, welcomed and that we have extended this arm of humanitarian love and affection for our people," Harmon conveyed.
The flight which arrived on Tuesday evening brought 16 overseas-based Guyanese and marks the second batch of evacuees to be rescued from the devastation left behind by the string of hurricanes to hit the region this year.
However, it was the first influx of locals out of St Martin as a part of this collaborative initiative.
At the commencement of this rescue initiative, some 43 Guyanese living on the island had indicated their interest to return home but following news of their successful return, that total quickly increased to 116.
As such, a number of other flights are slated to evacuate Guyanese from the devastated island.
Meals were provided to the returnees at the airport by M&M Snackette, free of cost.