The Moruca sub-district has been placed on complete lockdown owing to an upsurge in COVID-19 cases but residents took to the streets on Tuesday to protest for relief from Government to support their households.
The National COVID-19 Task Force (NCTF) and the Public Health Ministry had moved to enforce the lockdown less than one week ago at Moruca, Region One (Barima-Waini) and Arangoy's Landing in Region Seven (Cuyuni-Mazaruni) – meaning that all activities and services were to be suspended.
Dissatisfied by the current situation, residents took to the streets to vent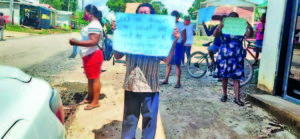 their frustrations with the fact that the authorities have instituted a lockdown without providing economic relief packages for households and businesses there.
Some carried signs which said "No lockdown without relief" and "Moruca matters". Throughout the picketing, masks were worn with adherence to social distancing. It was shared that with farming and other economic trade left abandoned, there are no viable income streams while families remain at home.
In a social media post, Regional Vice Chairman Sarah Browne said she listened to the plights of residents as they listed their concerns and solutions which can be considered.
According to her, farmers are denied access to their lands and other persons are restricted from accessing the hospital. Cargo boats are denied entry while carrying supplies for local businesses.
While vendors were told to operate for three hours, it was indicated that this cannot suffice to provide for their families. Issues were also raised about "improper protocols" for testing for coronavirus and distribution of the results thereafter.
Moreover, all families are not benefitting from the relief efforts from donors. As such, the provision of relief mechanisms was labelled as mandatory by the people before enacting a shutdown.
She posted, "The people wanted to hear something from the Toshao or Council on addressing their concerns. However, I learnt she is not well. Over 300 people were there. If nothing [was] bothering them, they wouldn't have come out."
It was insisted that if adequate relief cannot be supplied to the community, then officials should allow stakeholders to operate within the general curfew hours with adherence to the social distancing measures.
The Guyana Police Force, in a statement on the matter, indicated that while no permission was given to picket, the protesters dispersed themselves after some time.
In recent weeks, the Amerindian Peoples' Association (APA), Civil Defence Commission and other stakeholders have prepared hampers for the Santa Rosa community, especially for persons in isolation and their families. The village has a population of over 11,000 persons.
With a complete closure of all services and activities, the Guyana Post Office Corporation also announced that the Acquero Post Office would be closed for two weeks as the community implements measures to mitigate a spread of the coronavirus.
However, there would be special openings on July 10, 13 and 17 from 07:00h to 12:00h where all services can be accessed.