A Corentyne peddle cyclist, who is a mother of two, is now dead after she collided with a motorcycle on the Nigg Public Road, Corentyne, Berbice.
Dead is Deslyne Gaitri Armogan, 49, of Lot 180 Nigg New Housing Scheme, while the injured motorcyclist has been identified as 20-year-old Arvin Ramnarace of Lot 105 Chesney, Berbice.
The accident occurred at about 07:30h on Wednesday.
According to reports, Ramnarace was riding motorcycle CH 2690 proceeding East along the northern side of the road when Armogan, who was proceeding West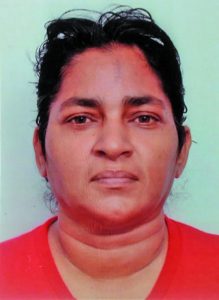 along the northern side of the said road on a bicycle, allegedly turned South into the path of the motorcyclist and they collided.
Both Armogan and Ramnarace were picked up and taken to Port Mourant Hospital, where the 49-year-old woman was pronounced dead on arrival. The young man on the other hand was transferred to the New Amsterdam Hospital, with head injuries. Nevertheless, his condition is stable.
The dead woman's husband, Gopaul Singh, told Guyana Times that he was on his way home from work when he noticed a bicycle lying on the side of the road and immediately recognised it.
"I went home because I see people [at the scene] but nobody didn't say anything and when I get home, my brother-in-law wife called and asked if [Deslyne] come home and I said no because I didn't see her. So I went back out on the road to see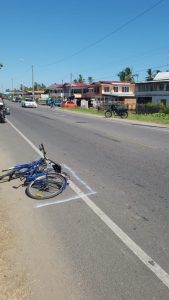 if what going on and then a lady from across the road ask if is we bicycle and I tell she yes and then she say that the person didn't make it," the man related.
Singh said he rushed to the Port Mourant Hospital where his worst fears were confirmed.
Guyana Times understands that Armogan had gone to a shop in the community to purchase pastries as she was about to take a trip to the Cheddi Jagan International Airport (CJIA) to bid farewell to some relatives.
According to her husband, the woman sustained head injuries and was bleeding through her nose and ears.
The couple has two children.
This newspaper understands that on September 28, 2001, the couple's third child – a six-year-old son – died in a road accident also on the Corentyne highway.
Singh said he always warned his wife about the Corentyne highway, recalling that that was the conversation he had with the now dead woman.